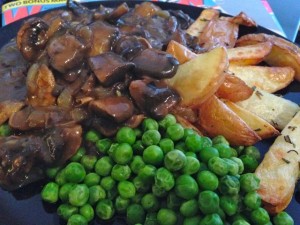 Serves 2 generously!
Ingredients:
Button mushrooms about 20 – sliced
Spray oil
Plain flour – 1 1/2 tablespoons
Brown onion – chopped
Splash of red wine
500mls beef stock
Method:
Brown onions with spray oil in medium sized pan. Add mushrooms and cook down for 7 minutes.
Add flour and cook for another 10 minutes. Add stock and wine and leave uncovered and simmering for 15 mins or until thick.
Add a touch of cream or milk for a creaminess or just add a big rare steak with baked rosemary chips.
Baked Rosemary Chips;

Super easy, chop up 2 big desiree potatoes into big, fat chips. Place in a covered microwave bowl and cook for 5 minutes. Place baking paper on a flat tray and spray with oil, scatter chips in a single layer, scatter with chopped fresh rosemary and salt, cook for about 25 mins on 180 degrees or until browned.