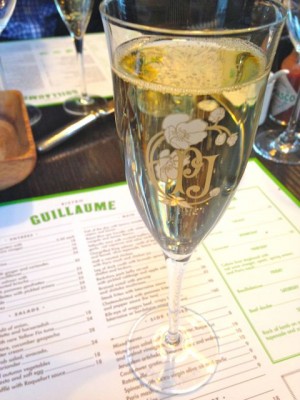 Whenever we have a celebration, special occasion or anyone asks where they should go for a wonderful dinner I always have Bistro Guillaume on my list, that all changed tonight! Sadly my special meal at one of my favourite restaurants in Melbourne was not great. The service was patchy to put it kindly, we eventually got our Champagne and had nearly finished by the time the oysters arrived;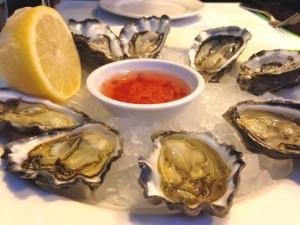 Oysters were lovely, well shucked and just with a touch of lemon – magnifique.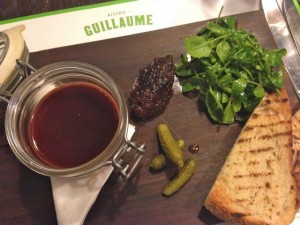 Entrees I went for the parfait, it looked beautiful and was a very generous serve and was delicious. It was all a bit downhill from there.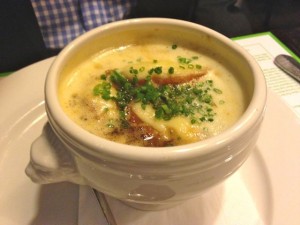 Hubby had the onion soup… and it was terrible. His description was watery soup like stock with some onions, it doesn't look great either. I declined a taste.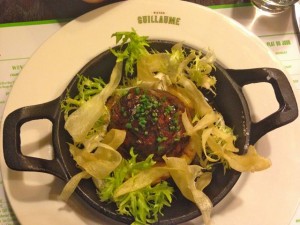 My $38 oxtail was not great, the caul fat it was wrapped in wasn't rendered properly so there was snotty fat around the dish, the oxtail itself with shitake was nicely cooked but lets face it, it is a cheap cut of meat and a pretty sad dish for the money. The parsnip chips were lovely!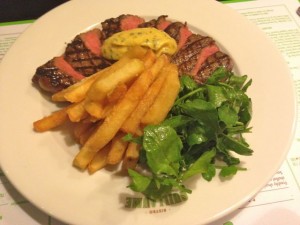 Hubby went for the steak frites, how can you go wrong? It wasn't great, the steak wasn't enjoyable, not sure why they felt the need to slice it for him, on the whole it was all a bit average. We didn't bother with dessert, it would take too long and chances are it would get taken to the wrong table, going from tonights performance.
It was a disappointing meal from a restaurant I have had high on my list as one of the best, bring back that beautiful veal chop and service with a smile.
***************************************************************
Last published 7th March 2014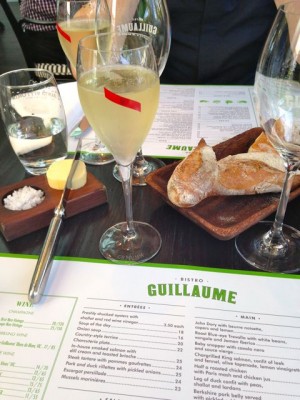 So much amazing food, so little time! I love Bistro Guillaume, especially for a long, lazy Sunday lunch. Celebrating with a little glass of Mumm and the most amazing freshly baked bread and the finest butter.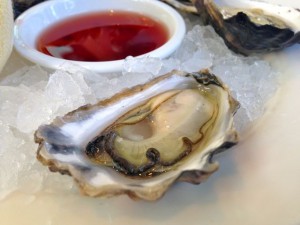 Freshly shucked oysters hold the shallot and red wine vinegar, sensationally fresh and perfect with a squeeze of lemon.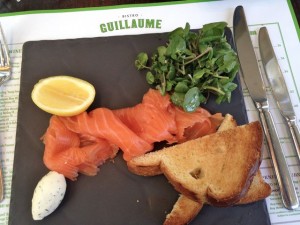 My generously portioned entree of in-house smoked salmon with dill cream, toasted brioche and peppery watercress is so fresh and surprisingly light for the amount of salmon in the serve. A perfect dish with creamy dill and sweet brioche – you can't go wrong.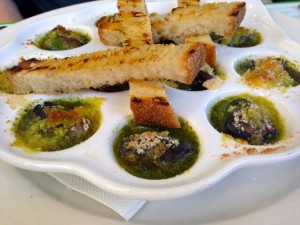 The 'Escargots Persillade' delicious garlic bathed snails, toasty bread and happy faces all round, these little suckers are fantastic!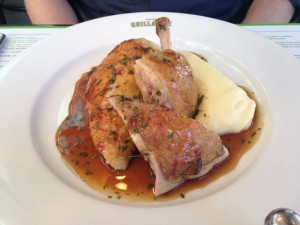 Hubbies favourite! He cannot go past the half roasted chicken with Paris mash and chicken jus. The ultimate comfort food with succulent chicken, creamy, dreamy mash with a untold amount of butter and a rich jus to perfect the dish….. oh I could go some right now!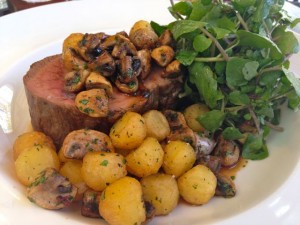 The veal cutlet with pommes Parisienne, mushroom, thyme, garlic and rosemary – my first ever veal cutlet, a damn fine piece of meat! Perfectly blushing and crunchy little potatoes. The mushroom and herb sauce is just amazing…. best dish of the year!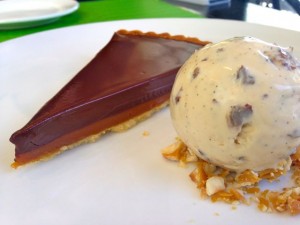 Save room for dessert! The chocolate fondant with vanilla bean ice cream and violet tuile is as good as it looks! Even if you have just consumed a veal chop the size of your head there is always room for chocolate!
Love, love, love – consistently fantastic, I cannot recommend enough 🙂
**************************************************************************************
Last published 16th August 2012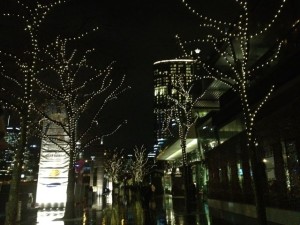 It was one of those rainy, dark, cold nights where it would have been easier to stay in the warmth at home but I am so glad we went back to visit Bistro Guillaume! Last time we came on a sunny afternoon we left full and smiling and tonights dinner was just as wonderful! We have been cooking from Guillaume's book all week so it was a nice end of the week to visit the restaurant too!
The menu is traditional French fare at reasonable prices and with a good variety to choose from. Entrees include Onion soup, Country-style terrine, Charcuterie, Steak tartare and more.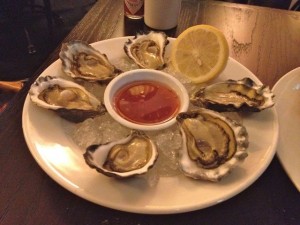 Sydney Rock oysters are hard to go past and they are superb! Perfectly shucked and incredibly fresh – perfection!
And to share 'Escargot persillade' snails with a thick, garlic and herb butter and a little toasted sourdough! OMG!!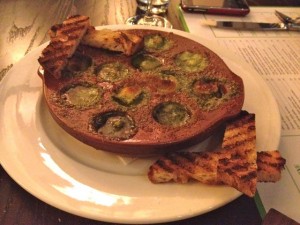 Incredible!! Gorgeous!! YUM!!
Mains are a wonderful choice of amazing dishes like duck confit with brussel sprouts, spring onions and speck, Berkshire Pork belly with lentils and tarragon vinaigrette, Half a roasted chicken with Paris mash and chicken jus and Steak Frites. There is a Plat du Jour and today is Duck Parmentier – who can resist!!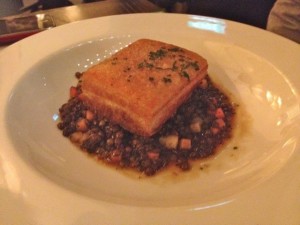 Hubby's Berkshire Pork belly with lentils and tarragon vinaigrette is gorgeous! Stunning pork – you can tell quality!! And a nice light hit with the lentils.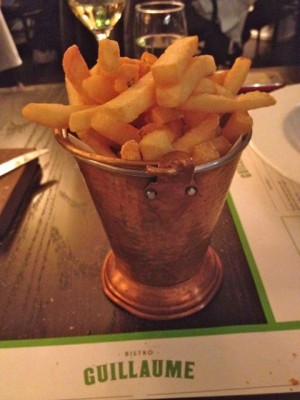 A bucket of perfectly cooked chippies, would have loved a touch of aioli! But hold the phone…… que mouth watering……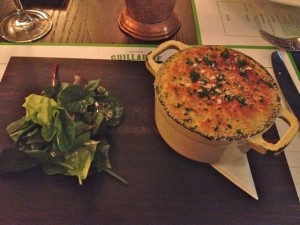 Duck Parmentier – Duck Cottage Pie is you like!! Holy Ducky-fest! This was a pot packed with slow cooked duck meat and a crispy potato top…….. best dish of the year per chance!!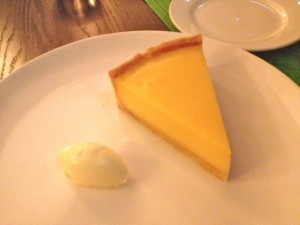 Lemon Tart – perfect! So very, very lovely! And then…..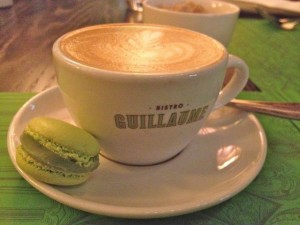 Even the coffee is gorgeous! With a little pistachio macaron and a smile on your face!!
Leave the diet at home and treat yourself to a wonderful time at Bistro Guillaume!
………………………………………………………………..
Previously visited 6th July 2011
I can only take it as a good sign when you are walking up to a new restaurant and sat outside is Neil Perry looking very content!
Bistro Guillaume's on Southbank is a nice edition to what is becoming my favourite Restaurant gathering in Melbourne! It was a gorgeous wintery afternoon with the sun trying to sneak in and not a cloud in the blue sky.
Guillaume's was pretty quiet when we entered and it was nice to take in the high ceilings, crisp clean decor and the touches of super green!!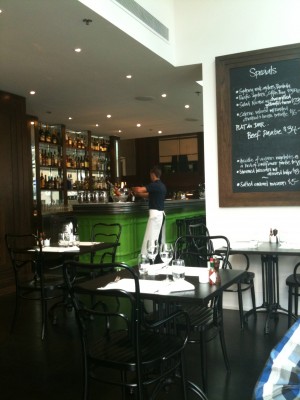 The staff were fortunately not in the green! Everyone that served us was very polite, non intrusive, knowledgable and friendly.
We started with a glass of Mumm, the wine list is simple, printed along with the menu on the placemat, with a selection of good wines.
We started lunch with a dozen oysters, Sydney Rock and Coffin Bay, they were super fresh, plump, beautifully presented and tasted just amazing!
To follow we had the very best of French comfort food, simply described on the menu as Steak Frites and Roast Chicken!
The steak was beautiful, medium rare, served with crispy chips and peppery water cress. The sauce bearnaise brought the whole dish together and was heavenly!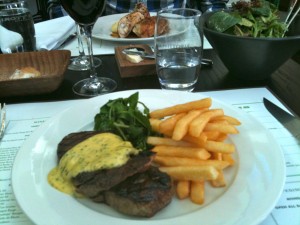 My husbands roast chicken and Paris mash were divine, we had to keep tasting each others to minimize the food envy!!
A Mac Forbes Barbera fitted well with a lovely lunch, all I needed was a seat by the log fire and I would have happily nodded off very content!
Beautiful food in a beautiful setting, Neil finished his charcuterie plate and headed off to work whilst we deliberated over the dessert menu.
Fortunately we were rescued from dropping out due to our full tummies with the top tip that the profiteroles came individually! How filling could they be? Lets get a coffee and a salted caramel macaron too!!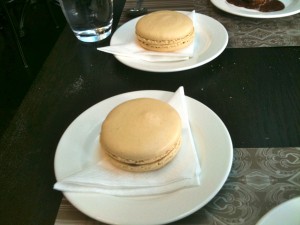 WOW, the biggest, saltiest carameliest macaron ever! Thank goodness we got a mini version with our coffees otherwise I couldn't show you the size perspective!
And then…….
Our individual profiterole arrive, packed with vanilla bean ice cream and a choc-tastic Sauce poured over at the table!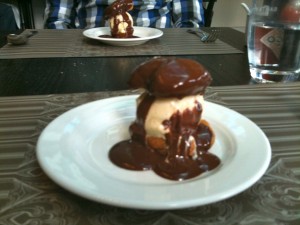 We were full, happy and vowing to come back very soon for more! Mr Brahimi J'adore!!