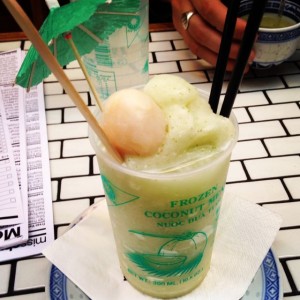 Gotta love Miss Chu, it's a tiny spot and we were lucky enough to move to a bigger table for the three of us, trying to squish around a table for two is not going to work when we want ALL the dishes! There is a great selection of wines and beers and also some fun with frozen young coconut crush with lychee and cucumber (and vodka if you wish) I am loving my mocktail this evening!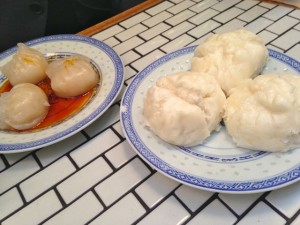 So many good dumplings to enjoy – English spinach & tofu, Prawn dumpling, Asian Vegetables with garlic chives, Shanghai Pork and the Scallop & Prawn which we go for – total perfection! The BBQ pork buns are soft, spongey and packed with lovely pork.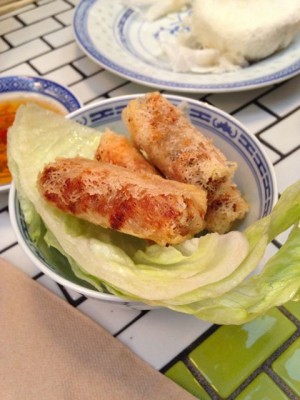 The spring rolls look too good, with traditional Pork Hanoi and then the 'net' versions which I love, choose from either Prawn & Crab or Hanoi Vegetarian net, the prawn and crab with the dipping sauce are so good, I could eat a bucket of them!
The peking duck pancakes are two bites of heaven! Good chunks of duck, skin on, perfect little pancake and just fabulous, at $3.50 a pop you could go to town on these!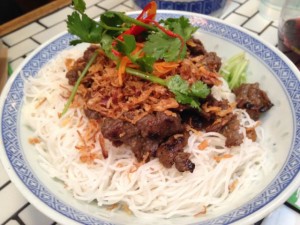 The Vietnamese lemongrass beef eye fillet with warm Vermicelli salad is just a beautiful dish, chilli and coriander with the aromatic beef and soft warm noodles = happy days. We also ordered the steamed fish of the day with asian greens, royal quinoa and red rice was the ugliest fish, potentially why I forgot to take a picture! But it tasted so good, I love the red rice and then flaking, succulent fish dressed with soy, chilli and ginger and some good hunks of chilli. Fabo!
If you can snap up a table then order everything you can, I have never had a bad dish and those Peking duck pancakes – a must!!
**********************************************************************
Last published 7th January 2013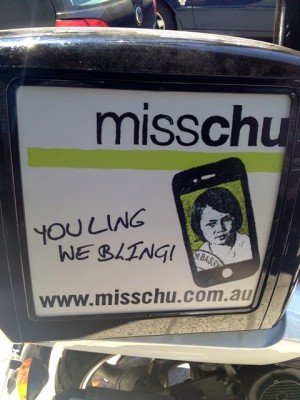 Miss Chu – the Queen of Rice Paper Rolls and more!
I can almost guarantee I might order the same thing every time I go to Miss Chu and I love it! I take a group and then coerce their thoughts to ensure I get my duck rice paper rolls and hanoi style spring rolls!
Now with a second Melbourne store and delivery bikes flying around and online ordering Miss Chu's empire is taking shape and she might well take the reigns on the official Rice Paper Queen!!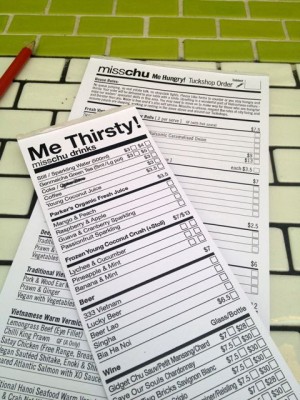 For those that haven't been the ordering model is genius! Order pads on your tables, tick the boxes and go up and pay and depending on how busy they are your drinks might beat you back to the table!!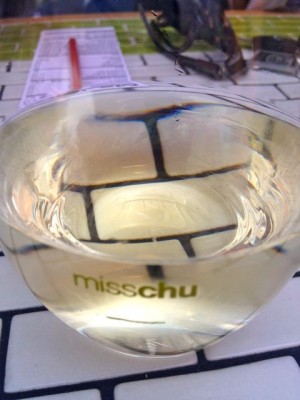 So once your order is in your food is quickly delivered and let the feasting commence!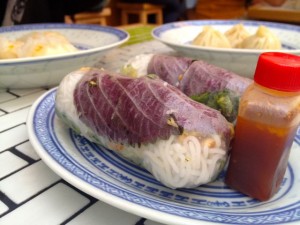 My favourite Roast Duck & banana flower salad – Roast Duck, shavings of banana flower, roasted aromatic ground rice, Vietnamese mint, perilla leaves, coriander, bean shoots, cucumber & red onion, dressed with hoisin & fresh lime = sensational!!
The Tiger Prawn & green mango is packed with Tiger Prawn, with shavings of green mango, vermicelli noodles, roasted aromatic ground rice, & a Vietnamese salad of mint, Vietnamese mint, coriander, perilla leaves & blanched bean shoots, dressed with a lightly spiced hoisin sauce… yum yum yum!!
The Steamed Dumplings are perfect with delicate light casings and wonderful fillings I just love, love, love!!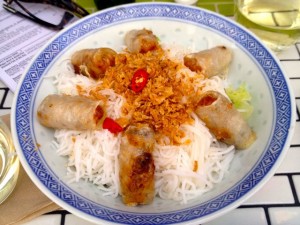 And then super healthy Vermicelli Salads with hanoi style pork spring rolls and Lemongrass Beef.
This is an amazing place and if you are lucky enough to get a seat and enjoy I would just stay there as long as you can!!