Behind the super cool of Smith Street is a breakie spot that is packing a hell of a punch, get in early to guarantee a table, though it looks like they take bookings. Marvel at the window of baked goodies and the calm scene through to the kitchen where the team are working in perfect harmony to deliver some plating that would have Shannon looking jealous!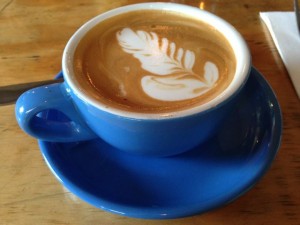 It's pretty hipster but friendly and fun, not that hipsters aren't friendly and fun! The place has a good vibe and when the sun is shining the number of seats doubles with the outside seating. The menu is incredibly good, and I do like a menu with some humour, think 'Thieves on the Run' or 'Spanish Gypsy Dance'! Hubby goes for Thieves on the run and it's a decent sized ciabatta and there are no complaints as he chows down.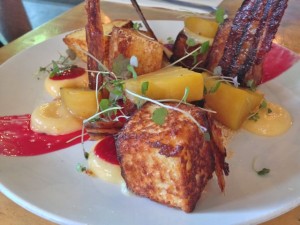 The Breakfast Chain looks too good with a long paddles loaded with Quince & apple, almond crumble with trifle berry yoghurt, side of soft-boiled eggs & English cheddar melted soldiers. Our friend goes for the simply named P. B & J but it is anything but simple, the plating is fanciful with Brioche French toast pieces served with peanut butter soil, sweetened beetroot, candied bacon, raspberry jelly & lemon curd!
Our other friend can't go past the Spanish Gypsy Dance with Spanish morcilla (black pudding) served crisp rosemary polenta bars with pepperonata, heirloom tomatoes, basil oil & poached eggs it looks and smells beautiful.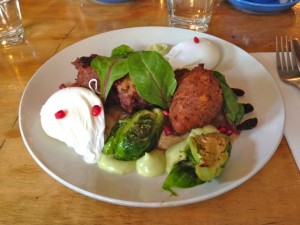 And for me? The Leprechaun – Crisp fried corn fritters on roasted fennel purée, burnt butter brussel sprouts, yuzu – avocado mousse, pomegranate and raisin with poached eggs……………….. holy vegetarian! This is a sensational dish, anything with brussel sprouts and fennel puree works for me and the fritters were big balls of fantastic flavour.
It is a great spot to drop by, be warned it gets busy but if you don't mind waiting or get over early enough you too can enjoy some sensational plating and some very scrumptious food!