An Albert Park staple there are always plenty of happy people enjoying coffee and brunch at The Petty Officer. Sometimes tricky to get a table due to their popularity with the locals we popped by on a random day off and though there were no tables to lounge in the sun there were plenty inside.
The menu is a delectable choice of dishes like 'The Chief' – poached eggs, short cut bacon, field mushrooms, avocado smash and tomato relish and sour dough. Or Spicy vegetarian baked eggs with fire grilled capsicum, feta, dukkah. Or Smoked Trout Royale with crispy spring onion infused potato and slow poached egg with tarragon hollandaise.
Coffee is beautiful and worth a second round.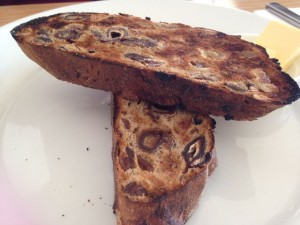 The fruit toast is two big hunks packed with plenty of yummy fruit, the butter was rock hard and the toast was only toasted on one side but still nice.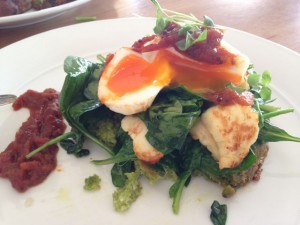 But hold the phone – minted pea and fava bean fritter with haloumi, spinach, poached egg and relish is sensational. The fritter is vibrant green and full of flavour and the haloumi is burnished to perfection and that relish is a rock star! The oozy egg is a perfect friend and this feels like a super healthy and super yummy brunch!