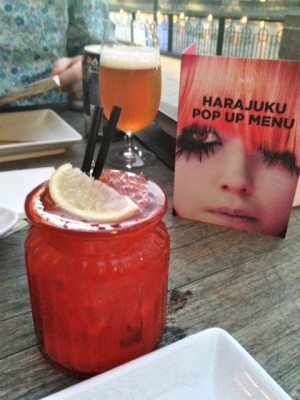 Pop up Harajuku night at Sake bar, pink and blue wigs, tight skirts, black eyeliner and cocktails! The Osaka mule with gin, cranberry and ginger in a funky jar glass is delish! Love a good mule. The special night comes with six special dishes including the Sunomo.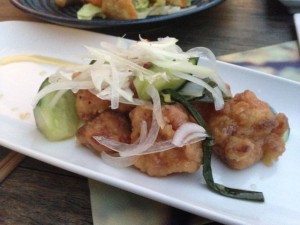 Chicken nanban zuke – fried chicken with chilli infused hot vinaigrette and chilled pickled cucumber. First bite was a surprise as it is cold! I assumed fried chicken would be hot but it is cold and completely delicious, love!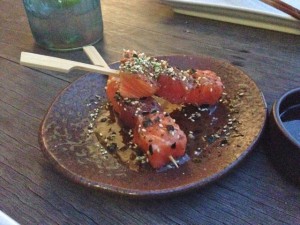 Tuna and Salmon sushimi skewers are beautifully fresh and plump chunks of sensational fish with a fabulous scattering of wasabi spice.
Agemono – crunchy fried Hamburger Gyoza are strange, they are indeed hamburger flavoured and super crunchy, you expect asian flavours when you bite into the fried little pillows but then you get a fantastic burger hit!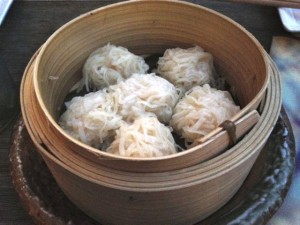 Off the regular menu, steamed prawn dumplings, chinese-inspired shumai with spicy ponzu are so delicate and I can never not order these lovely little dumplings.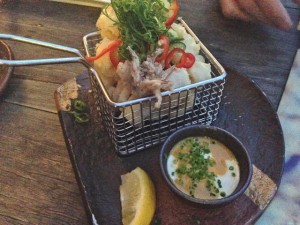 Hellloooooo twisty fried salt & pepper squid with chilli & yuzu pepper mayo, this is such a great dish, super crunchy, not greasy and plenty of chilli.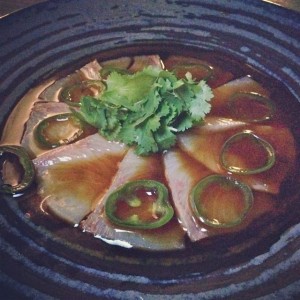 The kingfish with jalapeño, yuzu, soy and coriander is a sensational dish, perfectly balanced with punchy jalapeno and fresh kingfish. The crispy chicken karaage with spicy mayo, jalapeño dressing and tomato salsa is rocking – I would love to see the chilli delivery into Sake, it must be immense!!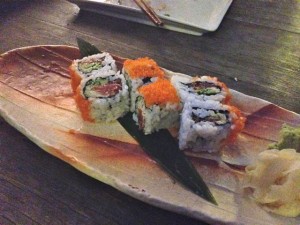 You know when you love a dish at Sake? When you have to order another round it was so good! The dynamite spicy tuna, shredded onion & cucumber with masago is bloody good! Perfect punch of chilli with the Gruner Veltliner wine, this is a winning combo and a perfect match to enjoy next to the river on a warm spring night…. (insert happy sigh).
And then there is dessert!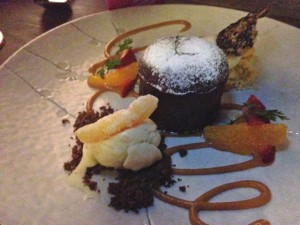 The special crispy warm waffles with fruit and cream were nice but nothing to the level of the chocolate fondant warm chocolate pudding with white sesame ice-cream & black sesame tuile – WOW! This is choccy lovers heaven.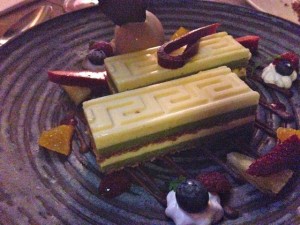 Green tea churros – fluffy churros with milk chocolate sauce & red-bean dip are really lovely and green and tasty and the Green tea Kit Kat cake is immense!
It was a lovely long night, the service was haphazard but friendly, the dishes were small and delicious and the bill was pretty big, those little dishes soon add up!! I can see why this big space is always busy and full of happy people eating Sake's modern take on Japanese.
******************************************************************************************
Last published 22nd September 2012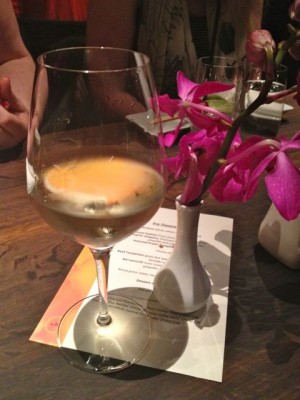 With much fanfare from the Sydney Restaurant, I have heard so much about Sake, so there is high expectations for this spot! As per the website;
Saké Restaurant & Bar is now open within the revitalised Hamer Hall, part of Arts Centre Melbourne, with Executive Chef Shaun Presland teaming up with international star Rose Ang, Saké's renowned mix of modern and classic dishes have been given a distinct local flavour.
The fit out is stunning, it is a BIG space and they have cleverly designed it to feel cosy, intimate and with excellent lighting for foodie photos!!
The staff are super friendly and it is the 'pre-show' crazy dinner service and unfortunately I think they were feeling the pressure. With any new opening there is a time needed to settle in and get everyone acclimatised and that isn't something you get with a ready made bank of customers storming your venue to eat in the 6 – 8pm window – I cannot imagine the volume of covers going through the kitchen at this time. But we were asked a couple of times if we were part of the crazy pre-show crew and we were clear we needed to be out in just over an hour so bring everything as fast as they like!!
The menu is big and inviting, folding out from a pretty front cover to a big sheet packed with sushi, sushimi, dumplings and more.
The wine list is pretty good, though you won't find much for under $50 but I guess that is becoming the norm these days, we thoroughly enjoyed our Heggies Chardonnay… once we poured it! The girl who brought the bottle over was super lovely but only poured my glass and then disappeared, another guy rushed over when we started pouring the rest of the glasses ourselves and was very apologetic – we all thought it was quite funny!!
Food started coming out pretty quick and too lots of 'oooohhhssss' and 'aaahhhhhhhs' The oysters presented in their pretty round turquoise bowl looked gorgeous.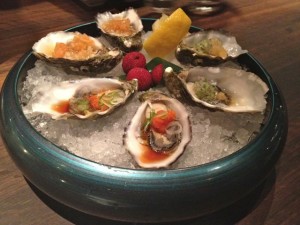 The waiter was lovely to explain everything and in middle were three little red fruits that he explained you can eat but there was a stone, always good to know! He couldn't remember the name so I just googled 'Little red Japanese Peaches'…. I still don't know what they are called but I was just exposed to some very unsavoury imagery and they were not the sort of peaches I recognise!!! They didn't taste of much but they were very pretty!
Anyways! The Oysters with Japanese salsas were lovely, super tasty and very fresh and perfectly shucked and at $30 a pop they better be good!!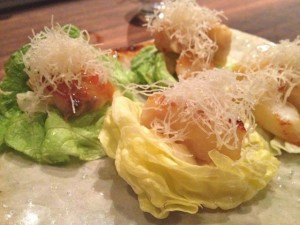 Silver cod lettuce cups with grilled miso-marinated silver cod were exceptional, I adored these with their lovely fresh shell of lettuce, soft, delicious fish and crispy kataifi pastry strands on top for a little crunch. Again a little pricy at $20 for the four, this is high end food and you are paying higher end prices!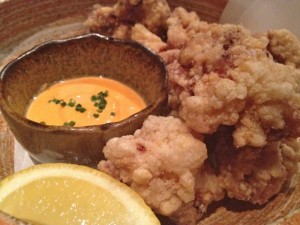 Crispy chicken karaage – fried chicken pieces served with salsa & sauces – was served with a spicy mayo (not sure where the salsa was!!) But the chicken was perfectly cooked and was a good serve to share at $16.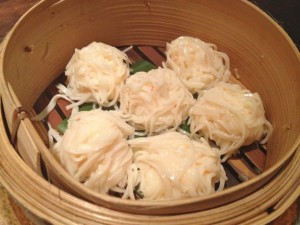 Steamed prawn dumplings – Chinese-inspired shumai with spicy ponzu sauce…. so much more than their description, 6 little noodle nuggets held together by magic! These were fabulous, tasty and gorgeous! 6 pieces for $17 was a little better value too!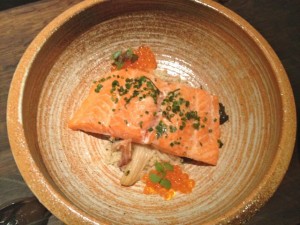 Kombu trout – pan-seared Tasmanian ocean trout with white konbu and enoki mushrooms and dashi infused quinoa at $33 was again a little pricey for a small dish but it was stunning, a perfectly cooked piece of trout with a little bunch of enoki and yummy quinoa.
ANd then it all went a bit wrong! We didn't see anyone for a good 15 mins, we asked someone to go and find our bottle so our empty glasses could be filled and then a dish we hadn't ordered arrived.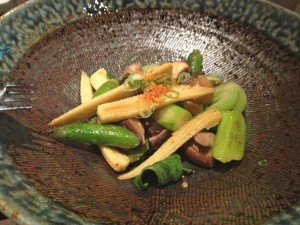 The Wasabi & pepper vegetables – sautéed seasonal vegetables finished with wasabi soy & pepper sauce was placed on the table, rejected and then arrived back with a somewhat embarressed waiter asking what else we were expecting and apologising as our wagyu had turned into wasabi veg so to accept the dish with their compliments whilst they organised the rest of our dinner…..
20 mins later we had to leave without seeing our Wagyu teriyaki and Dynamite Rolls…. everyone was really apologetic and accomodating and they didn't argue at taking the non-show dishes off the bill and they did check that we were asked if we were heading to a show but we left feeling a little sad and hungry!
To rub salt into the wound Macy Gray was 20 mins late and we left 20 mins in as she sucked big time! I wish we had stayed for the Wagyu I am sure it would have been more entertaining!!! Sadly we headed home to make some cheese on toast to satiate our poor tums!
Ultimately everyone can have a bad day, especially Macy Gray but we are more likely to give Sake another chance rather than her!! I am sure once the sun is shining and the terrace seats are beckoning we will be back to try those dynamite rolls!