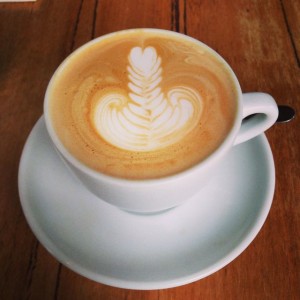 Dead Man Espresso is a long time fave of mine, a good local that is just too popular sometimes and there often isn't a spare seat in sight. But today, the brunch gods have smiled down and said – Yes, you will have great coffee and kale! Though todays coffee is starting to look a bit rude, or is that just me!!??
An all day breakie menu offers a crazy mix of good stuff from daily baked Scones, Super porridge, Chorizo toastie, Green pancakes, the Potato & kale hash plus an assortment of muffins and cakes to be enjoyed. The lunch menu has all those great words like brisket, reuben, schnitzel as well as a salad packed with kale, seeds and sprouts!
Staff are lovely, there seem to be quite a lot of them all working in unison to deliver seats, water, menus and our coffees arrive super quick whilst we debate over the menu.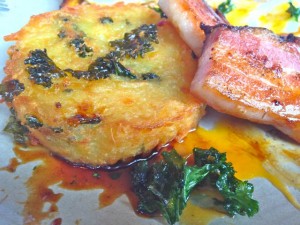 I couldn't go past the Potato and Kale hash with grilled kaiserfleisch and fried eggs, go hard or go home people!! Sensational dish, the hash was more of a lovely crispy potato cake with crunchy kale scatterings and it was perfection with the oozy yolks on my sunny side ups and the incredibly salty fantastic-ness of the pork. Such a great dish, hubby was so glad I couldn't finish it all!!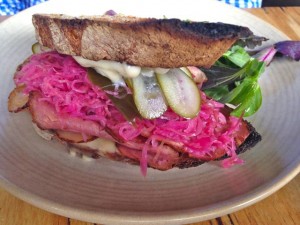 Hubby went for the Dead Man Reuben, jam packed with pastrami, red kraut, swiss cheese and pickles on rye. Just beautiful, generously packed full and working in harmony with crunchy kraut, luscious pastrami and pickle pickles. YUM!
Happy days all round, it was definitely worth a stop to enjoy!
*****************************************************************************
Last published 9th June 2012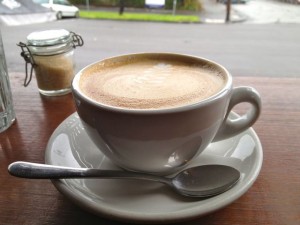 A South Melbourne hot spot Dead Man Expresso consistently puts out great coffee and food, if you are lucky enough to get a table! Lounging around on a wet, long weekend Saturday we were teased with tweets of French Toast Brioche and Goats Cheese Omelettes!
Through the drizzle we power walked to grab a stool in the heated outside area and get some of those great coffees on the go!!
Hubby goes for fresh scones with jam and cream – its kinds morning tea time!!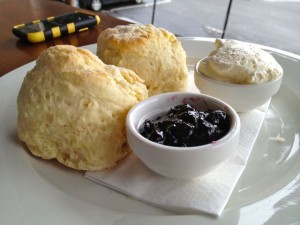 They are gorgeous! Firm crust on the outside and super soft and crumbly in the middle, warmed through and slathered in jam and cream all we hear is happy noises!!
My special brioche french toast with raspberry compete and apple crisps is a work of art!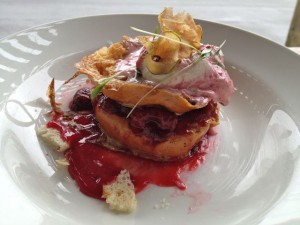 The brioche is lightly 'french toasted' with a gorgeous warming cinnamon sugar and then a thick juicy raspberry compote and a touch of fresh cream….. heaven!!!
…………………………………………………………
Previously visited 27th December 2011
Good coffee, great people… what more do you want? Perhaps a BLT with Pork Belly?!?!?!
Dead Man is my usual morning coffee hit but the joy of breakfast has never been enjoyed before!
Over Xmas there was a limited menu but all the good stuff, eggs on toast, baked eggs, avocado on toast, plenty of sides and the monumental Dead Man Pork Belly BLT.
SO coffee – tick tick tick, rich, creamy YUM!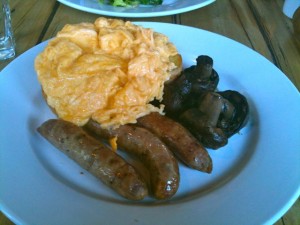 Scrambled eggs on toast with side of sausage and mushroom – amazing! The eggs are fantastic, just the right side of not too runny not too dry yum! The sausage is good, herby and tasty! The toast is light and just a smidge of yummy butter. Mushrooms with thyme – perfect!
Happy happy happy!
BUT hold everything the Dead Man BLT with pork belly on brioche with gazpacho is genius!! Slices of gorgeous pork belly all crispy and succulent. The pork just falls apart and though inherently naughty it would have to be one of the best breakfasts I have had in ages! Sweet brioche toast with a delicate herby butter and a shot of cleansing gazpacho! Nibble on a bit of salad afterwards and you can feel virtuous again!!
Amazing