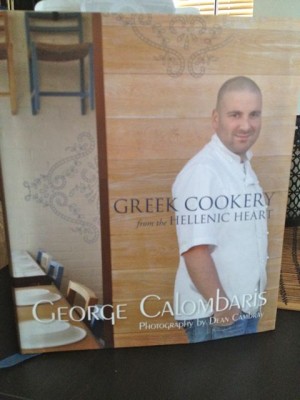 Revisiting an old favourite, George knows good Greek and for a lazy Sunday lunch I love a big, luscious moussaka, greek salad and my own lemon roasted potatoes.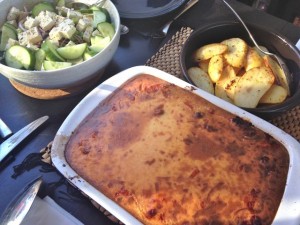 Recipe 6 – Moussaka
This recipe is easy and incredibly delish, our friends loved it for lunch and we enjoyed it for lunch for the week after – it is quite big!!
Recipe 7 – Greek Salad
Perfectly simple Greek salad – can't beat it and can't stop eating it!
******************************************************************************************
Last published 8th December 2012
Wk 47 / Bk 44 – Greek Cookery from the Hellenic Heart
Huge fan of Greek cooking and the big family feast over a mezze or two!! This is a great book full of wonderful, heartfelt family images and stories and fantastic Greek recipes!
My urban family are coming over for dinner so I want a table ladened with food and minimal time on the kitchen so this is perfect cooking! A truck load of pittas accompany three wonderful dishes.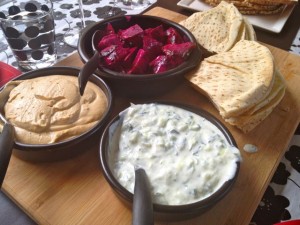 Recipes 1, 2 and 3
The hummus is one of the best I have ever made, the previous post it not shouts 10/10!! And it is divine! Creamy, nutty, sharpness of the lemon – perfect! The tzaziki is super fresh and zingy with wonderful fresh yoghurt and cucumber. But the Roasted Beets with cumin seeds and dressing is THE best!!
Recipe 4 – Greek Meatballs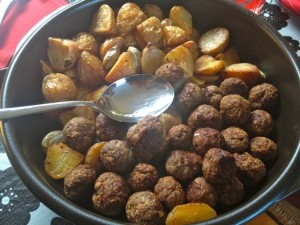 Oh Mamma!! Infact George's Momma's recipe! This is perfect! I made them early and then chucked them in the oven with some garlic roast potatoes and hey presto! Succulent, tasty and very popular!!
Recipe 5 – Greek Salad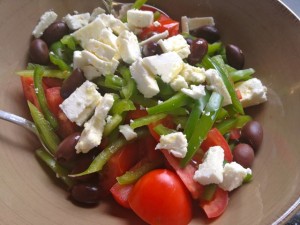 As Top Chef teaches us a good salad is not as easy as you think, it can easily turn into a mushy, gritty, tragic mess!! BUT not this!! A perfect, simple and pretty sensational traditional Greek salad! Applause all around you rock George!!
The 2012 Cookbook Challenge – at least one recipe from one book, every week, for the whole year! Or 52 books at the end of the year!!
Click here to see the adventures so far!
2012 Cookbook Challenge :- Recipe counter: 178