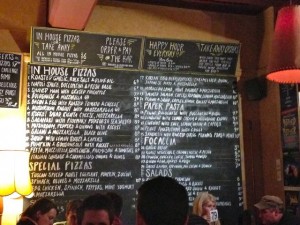 Strangely named Banff has been on Fitzroy Street for some time and I can't believe we have never been, this tiny little pizza house is serving pizzas for less than $10 and they are my new favourites! There's a welcoming British accent behind the counter and the relaxed approach of grab a table and order at the bar. It looks like there is barely a free seat but some happy pizza eaters make space for us to squeeze the three of us in and we drool at the blackboard calling out the pizzas and pastas waiting for us.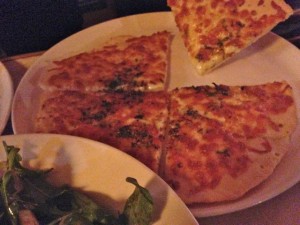 We are totally going to be greedy, it all sounds too good, simple garlic, rock salt and olive oil has a generous cheese and herb top and is divine! Bocconcini with fresh napoli and basil is just gorgeous, melting, stretchy cheese with rich sauce and a punch of basil – so good!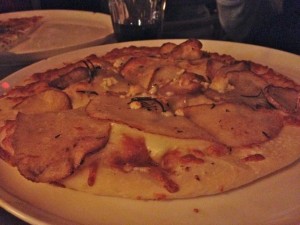 Saganaki with rosemary potato and sea salt is not something I have had before but I love it! Salami, mozzarella and black olive rich and spicy and all too soon the pizzas are gone?! The rocket, pear and parmesan salad is a token gesture to stop us ordering another pizza but it's really tasty and a bit cleansing after the cheese-fest!
Its super fast, its friendly and I can imagine when the sun is shining you could sit outside Banff with your water glass of wine and a delicious pizza and for a moment think you were in Rome.