I gave a friend a hard choice "You're coming from Brisbane for the weekend and I am taking you wine tasting. For lunch do you want fancy or not fancy?" She replied " Fancy". So I booked us all in a Ten Minutes by Tractor. I have fond memories of visits to the winery many years ago and many a good memory and a few lost ones from their delectable wines! It's has all changed a bit down in Mornington and at the winery. Mornington Wineries seem to have gone crazy for tasting fees, a crazy concept of charging happy, touring punters to taste a sip of wine or two. Generally refunded on any purchase it seems an unnecessary barrier to the enjoyment (and purchasing) or great wines. Not a problem for me, I will happily take home a bottle or two if they are good!
At Ten Minutes by Tractor everything is looking very fancy indeed, a very cosy fire greets us as we enter and we a greeted by one of the team who confirms our table booking and recommends we have a tasting first if we like. Coats are taken and big beautiful tasting glasses are shined up and ready to go. We work through the wines available with the help of our expert on all things Tractor and we have a very lovely time. But we are getting pretty peckish so we get to our table, the last one free in the room it is surprisingly busy for a wintery Friday – a sign we are onto a good thing.
The menu is awesome, with ocean trout with cucumber and yoghurt snow or quail with pearl barley risotto. Even the vegetarian options are tantalising with celeriac mousse cannelloni and gnocchi with textures of mushroom. The mains are across all the expected proteins with confit Salmon or pork belly, roasted duck breast, Cape Grim beef and roasted Wallaby. We are going to be here a while!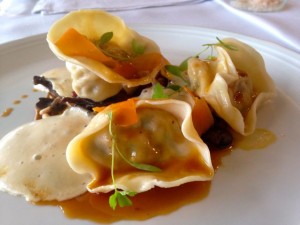 I go with the Rabbit leg tortellini to start with, served so beautifully with kaiserfleisch, mushrooms, pumpkin and pinenuts – looks good? Taste even better, the sort of dish you wish would never end and can still crave the dish months later.
There is some very lovely quail joining the table too with heart pearl barley risotto, smoked onion , peppered pancetta and mulled wine apples. Such a pleasure.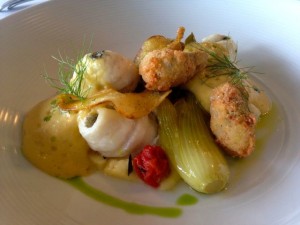 For main I get the roasted whiting fillets served with crumbed mussels, confit tomatoes, fennel and olive oil pomme puree. A generous and delicate dish, the soft flaking fish with the creamy potato and those crumbed oysters are the bomb!!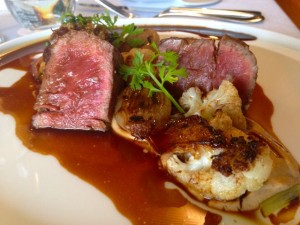 The Cape Grim Eye fillet is perfectly rare and served with slow cooked rob, cauliflower and baby onions, with a side of kipfler potatoes this is wholesome winter heartiness and perfect with a drop of red.
It is all a little fancy and I would recommend you don't have too many tastings before you get there, we might have been a little loud and excited for the other patrons but if you are looking for a little somewhere special on the Peninsula this is a definite must.