I could not have been more excited to go with friends and celebrate a new job with amazing curry from Babu Ji, last time we went we had the $45 set menu and had soooo much good food we thought we had gone to curry heaven. I texted my friends that day "Happy Friday – give me all your curry", you can book a table for six as long as you agree to the set menu. We were all locked in for 6.30pm, hubby had tactics in place to not drink too much beer at the pub before so there was plenty of room for heavenly curry.
And then we get there………………….
Still nice and friendly and love the Bollywood projection on the walls, the tables are still a bit squishy and when you are the one stuck in the corner on the bench you had better keep the beers to a minimum too. The set menu is now $50 a head but that shouldn't be a problem, it was totally worth it last time!
Not this time! Apparently they were getting a lot of waste so they put the price up and the number of items served down………….. down to the point where it is more expensive than if you ordered it outside of the $50 per head. We didn't get anywhere near $300 worth of food which was embarrassing after I had raved about how great the banquet was last time!
The entrees were nice enough….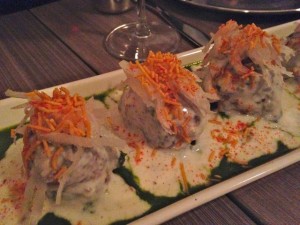 Delhi Dahi Bhalla – Street snack of lentil dumplings, yoghurt, tamarind, mint chutney, crisp chickpea noodles $14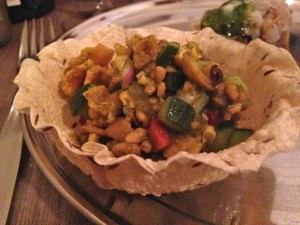 Masala Corn – Salad of roasted corn, cucumber, tomato, chickpea crisps, tamarind, pappadums $14
Tandoori Chicken – A Babu Ji specialty of marinated free range spiced chicken charred in our tandoori oven $25
Assuming we were at double serves of each we are still only at $106.
And then that was it for the entrees – no tandoori trout that I have been raving about since the last time we had it, no Gol Gappa little street food snacks, no Indian nachos, no Aloo Tikki…. Ooooh they were so good last time! None of those just faces of confusion and disappointment as we all muttered – is that it, especially as they had been served in a record quick time, we had no concerns we would be out by the end of our seating at 8.30pm – it was only 6.50!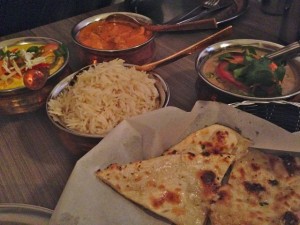 So out came the curries, six little bowls with barely a spoonful each of the beautiful butter chicken, the rich roasted goat curry and the deep dark black lentil curry…….. even if we average out the curries to $20 a pop that's only $120 worth of food, we are now at $226 …. I don't think we had $74 worth of rice, naans and the weird ice cream on a stick (that is really not my thing). The guys did refill a couple of the curries and rightfully so, they were so small not everyone got a piece of the meat or fish in the first bowl.
The nice guy that we loved last time who came to have a chat was immediately met with disappointment and a little bit of anger that we all felt a bit ripped off, we all know curry isn't expensive to make but we'll happily pay the $20 mark if you really enjoy it and you get a decent serve. Apparently if we wanted too we can ask for more food…. That's not really very useful when we have now finished our meals! They organised for the Indian nachos and samosas to come out as quickly as possible and we all ate a bit but to be honest the night was ruined, we were all over it, I was embarrassed I had brought my friends here and then we got hit with a 2% surcharge on all card payments…. So we paid more for our meal that if we had just ordered off the menu and you are charging us for the pleasure of paying you for it!
Thanks Babu Ji but we won't be back again anytime soon……
*******************************************************************************
Last published 23rd March 2014
Not your average curry house, Babu Ji has set up in the old Melbourne Wine Rooms and given an old classic a trendy twist. Bollywood projected into the corner, decent tunes and a menu to die for! The set menu is just $45 so why wouldn't you grab a beer from the fridge (they just get you to help yourself!) and get comfy for the night…..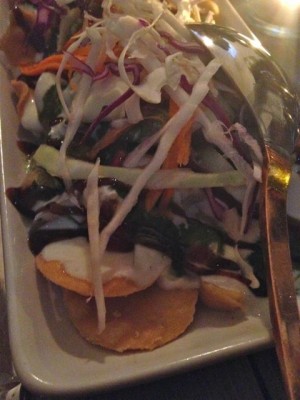 Starting off with Papdi Chaat – The motherland's version of nachos and salsa it's a fantastic dish with crunch and cream and freshness. Love!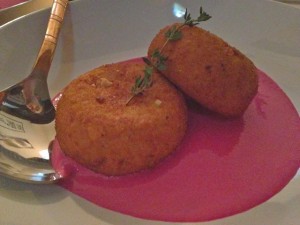 The sensational 'Yoghurt Kebab – Hung yoghurt croquette with mint, scallion & chilli chutney centre' seriously, this is sensationally good!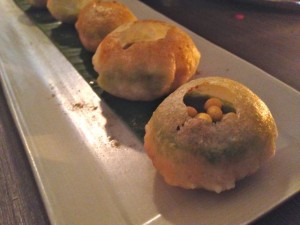 Melt in the mouth street snacks, the Gol Gappa is one of those little treats you pop in whole and then an explosion of flavour floods through. Soooo good!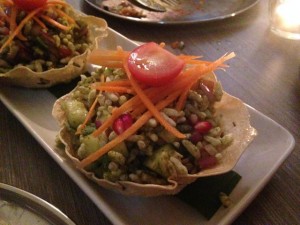 The 'Bhel Puri' – Mumbai beach puffed rice, cucumber, tomato, chili & mint chutney salad is a very generous entree and lots of delicious flavours with pomegranite and chilli and mint – just gorgeous.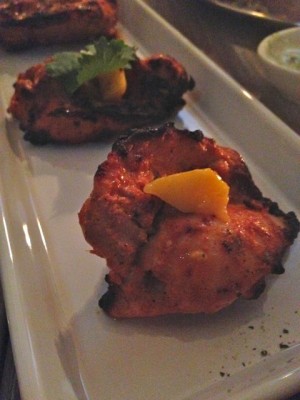 Tandoori Chicken – People we are STILL on entrees!! The Babu Ji specially marinated free range spiced chicken, charred in the tandoori oven to perfection. Incredibly succulent and tasty.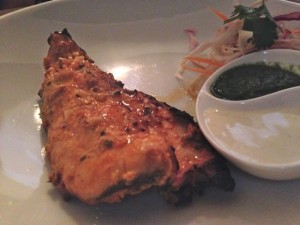 Tandoori Rainbow Trout charred in the tandoori oven with ginger and honey sauce, incredibly delicate and delicious, I love how passionately the guys describe how tricky the dish is to do in the tandoor and keep the fillet whole.
And that was just the entrees! We all nearly died when they announced the mains were now coming! I think my pants think we have had $45 worth already! Will wear joggies next time!!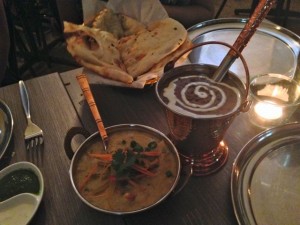 The most ridiculously delicious curries start appearing….
Butter Chicken :: Free range chicken marinated in yoghurt, tomato & fenugreek – Beautiful
Lamb Raan :: Slow roasted leg of lamb curry, a Babu Ji specialty – Bloody Amazing
Palak Paneer :: Garlic infused spinach with housemade paneer – Damn good
House Dhal :: Lentils, ginger, garlic & garam masala slow simmered & then cooked further atop our tandoori oven – Cooks for days to get to this richness – so delish.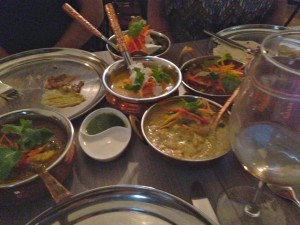 Pudina Beef :: Macedon Ranges beef simmered with garam masala, fresh & dry mint – Not as big a fan of this one.
Goat Dhungar :: Smoked goat curry, a classic – I love goat!
Coconut Fish Curry :: Fresh Aussie rockling in a turmeric, mustard seed & coconut milk curry – My favourite of all, simply gorgeous.
Bhaigan Bharta :: Smoky, fire roasted eggplant with green peas, ginger & garlic – Amazing
SERIOUSLY!!! So much gorgeous food and the most beautiful, fluffy naan breads. I wish I could have fitted in more!
We finish off with a 'Housemade All Natural Cardamom, Honey & Pistachio Kulfi' dessert on a stick, so incredibly rich and creamy but I can't eat anymore!!!
Such a brilliant spot, if you love curry I can't recommend Babu Ji enough. They have an amazing menu – I know, I have tried most of it tonight!! Great staff, great beers – what's not to enjoy?