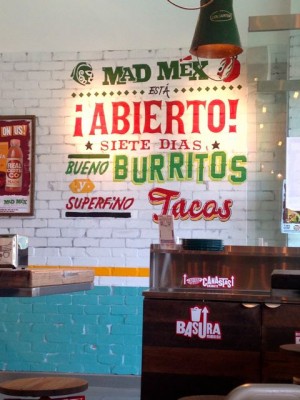 Melbourne has a lot of Mexican to offer these days, across all price ranges and experiences – you can queue up the stairs for a more upmarket affair at Mamasita or get in quick and cheap with Guzman Y Gomez, either way we love our spicy fish tacos and guacamole. The Mad Mex chain has been appearing at a rapid rate and once one arrived in South Melbourne we knew we would have to give up our avoidance for fast food chains and pay them a visit.
So it is fast food, South of the border style, order at the counter and your burrito will be assembled before your eyes, want guac with that? You can enjoy nachos, quesadilla, burrito and tacos with pots of salsa, sour cream and guacamole. However it all starts to add up a bit. You pay $8 or $12 for a burrito (regular or large) but then you add meat, add guac, add salsa…. Before you know it two quesadillas costs $26.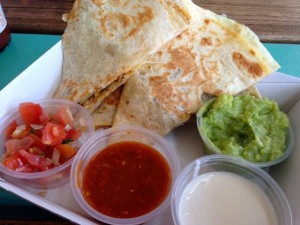 It was a nice enough quesadilla, bit of chicken, bit of nice melted, oozing cheese in a roti like tortilla. It was a bit bland until you got some of the salsa on it and there wasn't much there to show for our $26. Fortunately the drinks came free otherwise we would have been nearer $40 for a pretty average lunch.
I am sure it is great for lunch on the run or a quick bite when you aren't in the mood to cook but I think I prefer to make my own!