Have you ever been to Woolloomooloo? It sounds like a kids book but just a short cab ride from Sydney Airport and you arrive at the water and the wonderous Woolloomooloo! Staying on the front at the Blue we have scored a beautiful sunny winter day and a seat at one of the overflowing restaurants on the jetty.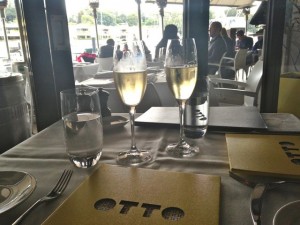 Surrounded by the well dressed and sociable patrons of Woolloomooloo I have been told to keep an eye out for celebs like Russell Crowe and Paul Hogan who have been known to pop up in China Doll, Otto and the other gorgeous restaurants in this little group.
We were lucky to grab a table at Otto, who know everyone would be out having lunch today? The setting is sensational with the view, pristine tables and elegant staff. The only downfall was the idiotic family two tables away who gave the toddler are hard rubber ball to play with….. it's not cute you moron. We started with a glass of sparkling whilst we drooled over the menu. So many beautiful dishes, simplistic Italian using all the traditional cuts and sauces. It is peasant food at its very finest.
Saturday, 1.30pm, glass of sparkling – what could be missing? Oysters! Lets go a dozen, half natural and half with the chefs pickled cucumber dressing…………………………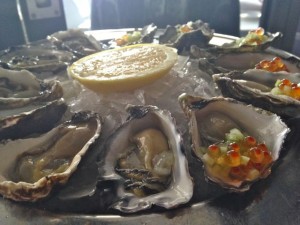 SENSATIONAL!! This is when I love oysters, immaculately shucked, perfectly fresh and just ready to slip into my mouth. I usually just prefer the natural oyster, maybe a squeeze of lemon but the pickled cucumber and massive caviar pearls that pop delightfully in your mouth are so very, very good with a sip of the sparkling we are in heaven!
For mains we agree to go with the lamb shanks and beef cheeks, though I could easily of gone for the fish of the day with simple barramundi or the chicken or the pork belly, and don't even start on the wagyu brisket gnocchi or mushroom ragu pasta.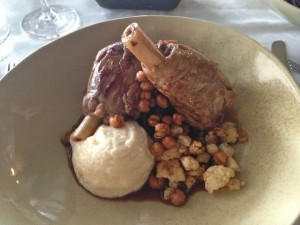 Braised lamb shank, white polenta, roasted cauliflower, cavolo nero and chickpeas. Beautiful! Generously plated with two melting shanks hubby was super happy to take over and finish at half time! The roasted cauliflower was so tasty, crispy chickpeas gave the dish some crunch and the creamy white polenta was the crowning glory in this dish.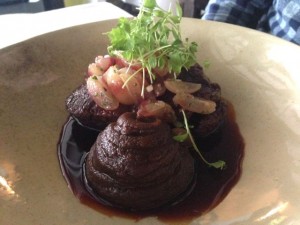 Beef cheeks with marsala were deep, rich, luscious and consumed easily with their recommended shiraz. The little braised onions and eggplant puree.
Just a great place to be …. we had a really wonderous day at Woolloomooloo!