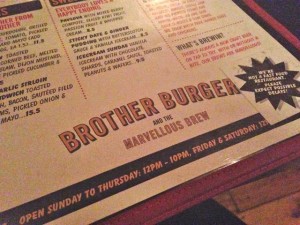 Hmmm burgers, we've eaten a few and even went on an adventure with The Burger Book. We've argued over buns and wagyu patties, we've drooled over sliders and melting cheese and now….. we are off to Brother Burger. Highly recommended and lurking at the less hipster end of Brunswick Street it is a cold dark night when we grab a booth in this warm and welcoming burger spot.
The menu is extensive with everything you need from 'Astronuts' to Prunes wrapped in bacon to BB's own chik-o-rolls and dim sims . So very hungry I go for the carb filled croquettes with spiced potato, polenta and cheese and served with house-made chilli jam dipping sauce. A bargain for $6.50. I have a cunning plan to share these little beauties and then claim onion ring credits later – with two orders in already you really can have too many onion rings!
So burgers… decisions, decisions! Firstly I like the call out on the menu "100% FULL BLOOD WAGYU BEEF, NO BULL" and then six of the best including Plain with 100% Wagyu Beef patty, lettuce, house-made: pickles, mustard mayo, ketchup, Hot Stuff, Royal Blue, Fair Dinkum, Oh Brothers (Double Patty) and The Lot with 100% Wagyu Beef patty, bacon, free-range egg, cheese, pineapple, lettuce, onion jam, house-made: pickles, mustard mayo, ketchup…………… hallelujah!!
BUT there's more! If you don't like the beef you can still enjoy yourself with a choice of Mr Bean, Magic Mushroom,. Chook, Choripan and Jolly Jumbuck!!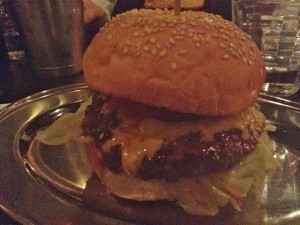 So I go for the Plain with cheese, a great bun to start with, firm, no fancy brioche, lightly toasted and holding firm on all the yumminess inside. Perfect rose tinted patty and all the right mix of condiments and salad to make the whole table go silent apart from yummmm noises!! Damn good!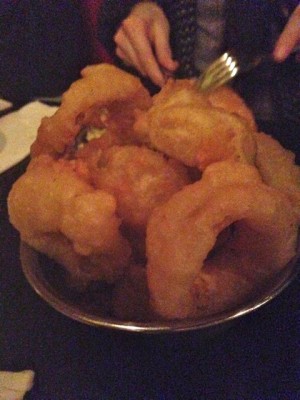 Everyone else is super happy with their choice and there are bowls of rings and fries everywhere……….. Oh Brother – let us feast!!
It's all over too soon as we nibble on the last of the shoe string fries and contemplate what we will have next time. With a crazily reasonable bill paid we head off into the night and promise we will be back soon.