Where can we go on a Friday night that feels like home? Not the latest opening or the trendiest new spot, in fact somewhere we probably won't see the same old faces or have to queue in the cold. No opening week bumps, no new chefs finding their feet, just smiling staff who have served the same dishes a hundred times and aren't in a rush, just going with the flow.
So whether it's your first time or tenth time at Lau's Family Kitchen – you will have to work really hard not to have a great time and a wonderful dinner. The wine list covers all bases by the glass, varietal and price. The menu is a feast of traditional Chinese with all the usual suspects to get you excited and fill your tum.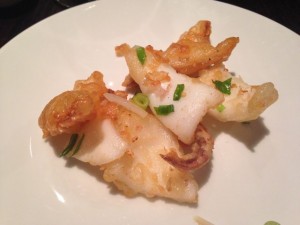 The salt and pepper calamari is so incredibly crispy and fresh, lightly seasoned I could have gone a whole lot more chilli but that's me, I would still smash a serve now if one appeared!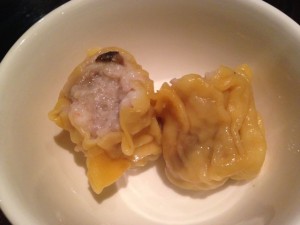 Shu Mai are tender, succulent and delish – happy little dumplings! No odd bits of gristle or something you are not sure about, there are made with love and quality ingredients and plenty of good aromatics.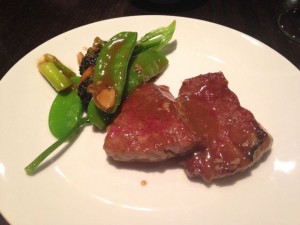 The eye fillet is supreme, melt in the mouth amazing, lightly coated in a delicate gravy and served simply and we get a whole big bowl of greens to go with. Normally $20 on greens would be something you would question but this is a generous bowl of spring freshness with plenty of different veggies plus sneaky wobbly fungus that I love. Lightly dressed the perfect with our rich beef.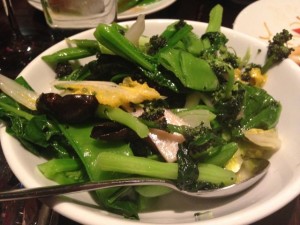 Singapore noodles are so delish! Just a simply mix of vermicelli, egg, beansprouts and veggies in that secret dressing I can never master!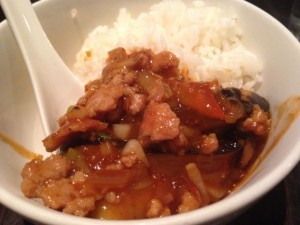 The pork and eggplant too a little while to come out, we weren't in a hurry but I think our brains had had enough time to tell our stomachs we were full! Creamy eggplant and rich mince in a thick, luscious sauce a little rice – could totally eat that now!!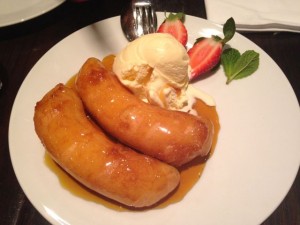 Strangely our brains had said we were full… and then banana fritters arrived and suddenly there was room! OMG the best! Super crispy crunchy batter with the perfect banana inside, not to hard and new, not tooo old and soft… just right!
Pretty much sums up Lau's really – just right!
*******************************************************************
Last published 22nd August 2012
One of those on the list that we have been meaning to get too and now we have I can't believe we have been missing out all this time!!
Lau's is gorgeous, intimate, friendly, quality and amazing food! Tick, tick, tick!!!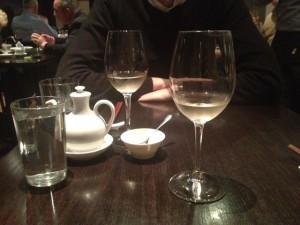 We get a lovely welcome, straight to our table, wine list and menus delivered and off we go! Nice German Pinot Gris and bring on the dumplings!!
The Scallop and Prawn steamed dumplings are so tasty! You can taste the freshness of the seafood and the flavours are perfection!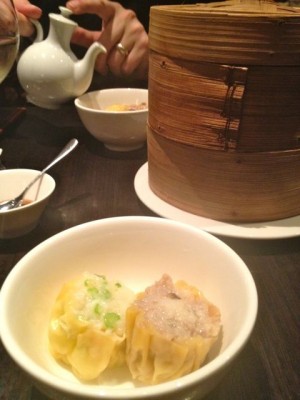 Sui Mai – Pork and Prawn Steamed dumplings – textbook perfect! It makes you realise how wrong some places can get this little dish! This was stunning!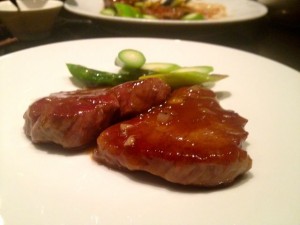 Eye fillet with asparagus and soy….. so good! Wonderfully rosy rare and buttery soft!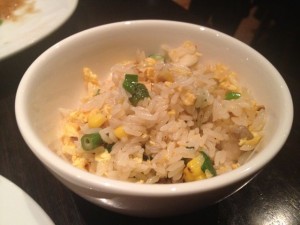 Mushroom fried rice – fantastic flavours and great with our wonderful eye fillet! (bit of a mean piccie! There were mushrooms in there honest!!)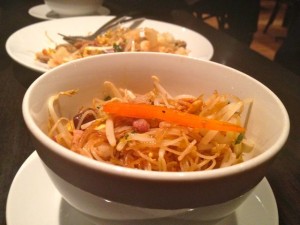 Singapore noodles with pork and prawn – All i can say is this dish has converted husband back to noodles they were so good!! Now on the hunt for best noodles in town!