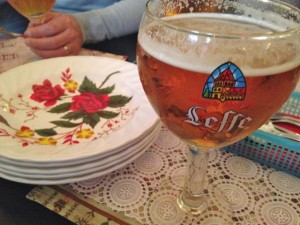 We just can't stay away!! My love affair with Cookie is still going strong after 10 years and whenever friends are in town we usually end up taking them for the Cookie experience, good beer, good food and good times.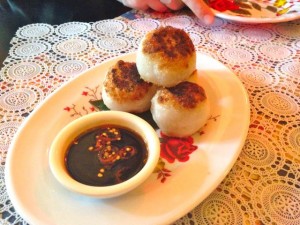 Totally addicted to the taro dumplings with chilli soy, it I could take these home it would be dangerous.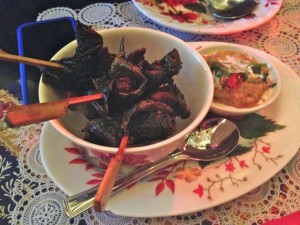 A new discovery on the vast menu to choose from, the peppered pork sticks wrapped in betel leaves with pork & peanut relish are insanely good! That peanut relish is divine.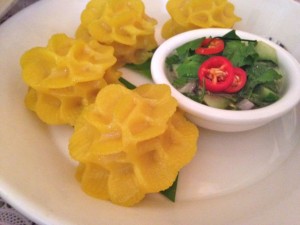 Steamed fish dumplings with pickled cucumber are gorgeous, packed full of fish and just so pretty.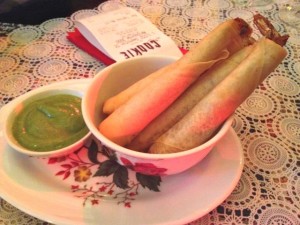 OMG the prawn and glass noodle firecrackers with avocado and coriander sauce are just too good, the big, fat juicy prawns in their crispy coats and that sauce is to die for.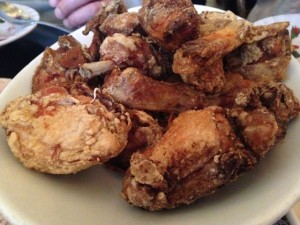 And then to top it all off a big bowl of deep fried five spice chicken with sweet chilli sauce – The Colonel has some competition!
Top spot, can't spend enough time there… in fact I could go some taro dumplings right now!
*******************************************************************************************
Last published 16th February 2014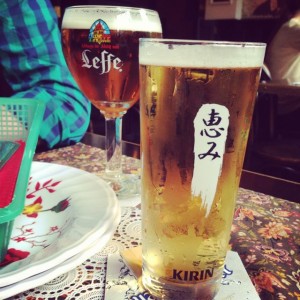 Such a big advocate of Cookie, one of the best spots in Melbourne, the place we take all of our visitors, friends and the urban family!
We actually tried something different today! Ofcourse we have the infamous Taro Dumplings!!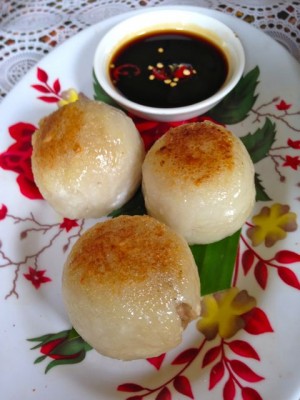 But then we added some 'big boy' food to the order with deep fried five spice chicken with sweet chilli sauce. So good! And a bargain 1/2 Chicken at $21 – it seemed like a lot more than half a chicken too me! They never stopped and that nuclear sweet chilli was a hazard to my white jacket but gave those ribs such a good kick!!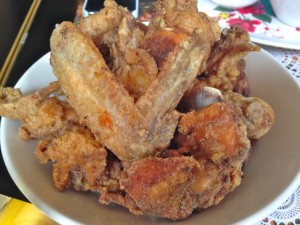 And then the pork spare ribs marinated with roasted chilli & soy – boys like to gnaw on things! These were a massive bowl of beautifully flavoured ribs, get in and get your hands dirty – if it isn't across your face you are doing it wrong!!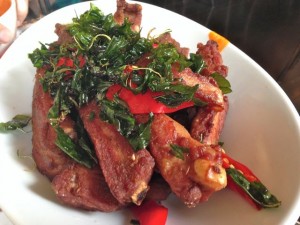 With all that boy food it might be time for a delicate glass of Prosecco!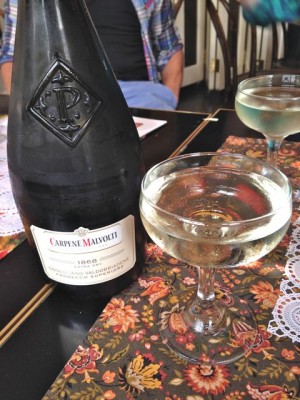 Fabulous as always! My best way to spend an afternoon!
*******************************
Last published 5th July 2012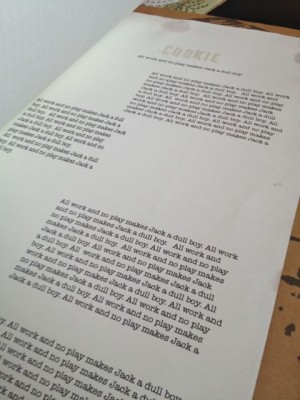 All work and no play makes Jack a dull boy! In the back of the 86 page wine list is this repeatedly printed! A great ethos for any watering hole!
Cookie is cool! The wine list is cool with spiderman and Dennis Hopper featuring to name a few! The staff are cool with their casual moustaches and relaxed friendly service! The place hasn't changed a lot over the years, perhaps a few new lipstick lips on the wall but generally it remains consistent – consistently wonderful!!!
The menu is huge! a big board of fun! Packed full of thai flavours in so many combinations! We have been a few times and I always drawn to the fat noodles with duck and the chilli beef stir fry but today we will try a few new things!!
But firstly – those taro dumplings!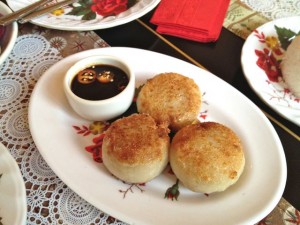 There are barely words to describe how much I love these little fluffy pillows with their spicy chilli soy sauce!! AMAZING!!!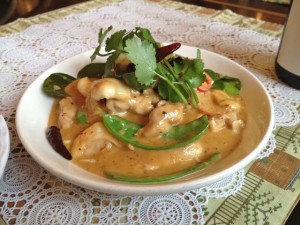 The stir fried chicken, enoki & oyster mushrooms, fresh coconut, kaffir lime and lemongrass is creamy and wonderful, so amazing with a little rice and roti!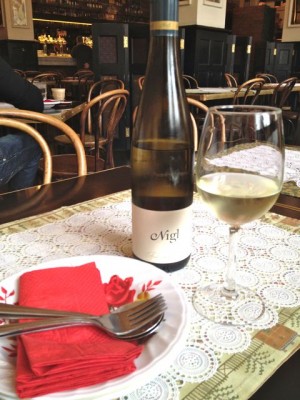 Our Austrian Gruner Veltliner is fabulous with all of our thai spice and the grilled eye fillet & green papaya salad.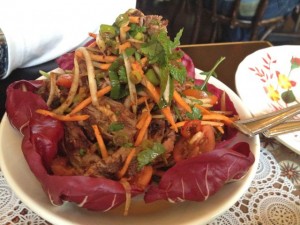 Lots of beef with real bitter, sour thai flavours that aren't completely to my taste but still a great dish! It looks great and goes really well with the other dishes
You really can't go wrong here at Cookie – though it can get dangerous if you stay too long!!
………………………………………………………………………….
Previously Visited 28th August 2011
Cookie has been a regular haunt for us and over the years we have always been amazed at the consistency of service, food and good times!
Located in super cool Curtin House on Swanston Street, the multi storey Art Nouveau building is home to not only our favourite restaurant and bar Cookie but also the Rooftop Cinema for summer movie fun, a Kung Fu academy as well as the Toff in Town, a recent addition to great places to catch small intimate gigs with up and coming bands.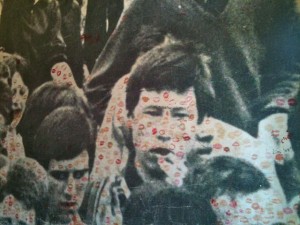 As per the Wiki site – The building was built in the 1922, originally the Tattersalls Building, it was renamed after the Labor Prime Minister John Curtin. It was also once the office of the Communist Party. After being bought by a collaborating group of Melbourne based business men including Tim Peach (owner of Rooftop Cinema), Curtin House was restored.
It's a gorgeous sunny Sunday and we duck into Curtin House and up a few steps and we are immersed into a Thai Restaurant meets Belgian beer hall! Cookie is split 50/50 with a table service restaurant to one side and a less formal bar / restaurant to the left (as well as hidden little snug cocktail bar at the back!). The bar runs along the back wall and is packed full of great wines, usual spirits and a surprising amount of creative brews on tap including some Euro favourites Hoegaarden and Leffe plus today I notice a new one 'Dirty Granny' cider from Matilda Bay, complete with authentic knitted cover for the pump!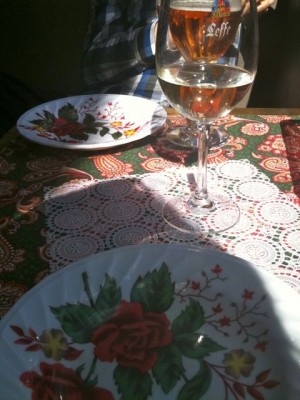 But the sun is shining and we have managed to get one of the little balcony tables and I feel the need for a Tamar Valley, Moors Head Riesling. It's a great wine to sit back and feel the warmth of the wintery sun on your back, looking back into Cookie I do smile at the crazy ecletic mix of floral plastic table cloths with their Belgian style doillies! There is retro vinyl hanging along one wall near the decks and the famous kissing wall, someone somewhere thought they might leave a lush pair of lipstick lips on the black and white print along the wall, and then so did everyone else!! I have always refrained from joining in, partly as you need to get up pretty high to get some space these days but also just due to a suspicion on how hygienic the much kissed wall is!!
The staff at Cookie have changed over the years but must all come from the same clone in the basement because no matter when you go there is always a cool, smiling, hospitable dude waiting to pour you a leffe and deliver you great food with a smile.
So, first mention goes to my absolute favourite dish is Melbourne, Taro Dumplings with chilli soy. I wonder how many I have eaten over the years??!! They are always exactly the same, soft, delicate pockets of creamy taro with a killer chilli soy that combines to deliver lusciousness and punch. I used to order them even before I knew what taro was!!!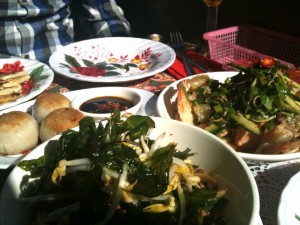 The chilli beef stir fry with beans & thai basil, steamed rice and roti bread was fantastic, we have consumed a reasonable amount of chilli with lunch and this is no exception, the meat is covered in a delicious 'gravy' full of thai flavours, accompanied by green beans and chilli, bean sprouts and coriander. The roti is charred perfectly and acts as a fantastic mop to get the last of the flavours.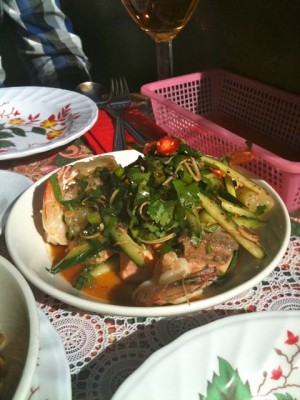 The salmon, prawn & pomelo salad with ginger & lemongrass is a new one for today and the little floral plastic dish is filled with chunks of gorgeous salmon, prawns and lots of cucumber, coriander, chilli and pomelo. I don't think I have ever had pomelo before and I would call it 'Friendly grapefruit'! Slightly less bite! The citrus works beautifully with the grilled fish and zing salad.
To quote my better half, no matter how often we come here it is always great and no matter what day it is, it always feel like a Friday or Saturday! Everyone looks like they are having a great time, enjoying a drink and great food whilst the world goes by outside.
I don't have any doubts that we will still be spending lazy afternoons at Cookie for a very long time to come – taro dumplings in my 70's come on!!