Oh the excitement of a new local pub on your doorstep and even better a new trendy pub! The old pub has literally had the guts ripped out and in its place is a boutique hotel with gastro pub. The big central bar and new bistro area make it hard to remember the old layout, the high bar tables and long seated tables make it hard to believe it used to hold barely 20 seats in the front bar and the modern and chic fixtures and fittings make this a lovely place to gather and a homing beacon for the mature hipsters of South Melbourne.
The bar menu is tres gastro with bone marrow, fish finger ribbons, venison salami and tripe, there's fancy fish pie at $26, good old burger and fries for $20 and fish and chips for $23. The wine list is really great, good all rounders by the glass and the bottle and pretty reasonable for a few drinks with friends or a lazy lunch.
Plenty of light but not cold, friendly staff, fantastic bathrooms, good wine but…. The music for a Saturday afternoon kind of depressing! I live with a music blogger, I can't escape it when the music isn't hitting the mark picks it up on his little radar and starts rolling his eyes and threatening to leave if they play Enigma… hilariously they did but I have just bought him a beer so we managed to get him to stay. I am sure there is a place for Enigma but I prefer something a bit more upbeat for a Saturday afternoon!
So food – we went good old burger and fish pie.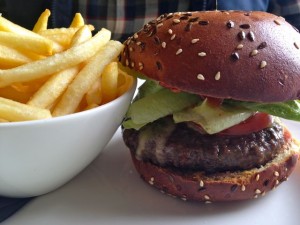 Burger looked very handsome and I had a nibble and thought it was great, even comes with fries for $20 which is a rarity these days in the finer establishments. Hubby wasn't a great fan but I thought it was a good bun, meaty burger and not too shabby!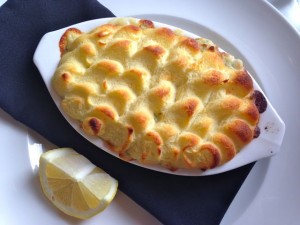 Fish pie – look at that baby, creamy, smooth mash piped to perfection and perfectly browned, underneath was that molten creamy coated fish. And it was beautiful, packed full of flavour and as the last dribble was scrapped from the side with a stolen chip I was sad it was over. It was great but for $26 I would have expected a bit more than the salmon and white fish pieces, maybe a cheeky prawn or mussel would have been good.
The Coppersmith is a great addition to Clarendon Street and I am sure we will be back in to try the fish and chips or tripe very soon.