If you haven't tried Menulog yet… where have you been? Imagine a cold rainy night in Melbourne, you have just got in the house after a hard days work, you've put the washing on, emptied the dishwasher, fed the animals and then…. What are we having for dinner? When you're too tired to cook and you just want food to magically arrive you can use Menulog. With a range of restaurants on board and your choice of cuisines you can get your favourite pizza, noodles, curry or thai delivered to your door. Now, I know you can get your local Thai to delivery anytime but Menulog has a wide range of restaurants that listed, you can order from their menus on the app and then pay with your credit card that you can ask them to remember for you and then you don't even have to go and find your wallet!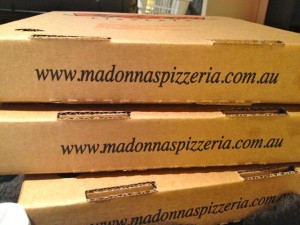 It's like having all your local restaurants ready to deliver to your door, no conversation required, it will remember your favourites to re-order and will text you to confirm your order has been received and the approximate deliver time. And then within about fourty mins dinner has arrived and it's happy tums all around.
Some of our favourites on Menulog;
Madonnas Pizza Restaurant – Port Melbourne
We have never made it to the restaurant but their pizzas are the best! Super thin crust, great flavours, fresh and nearly always on time and polite. The one time it all fell down they were great at fixing the problem so that we didn't go hungry. Their margherita is one of the best we have found and they consistently deliver hot and delicious.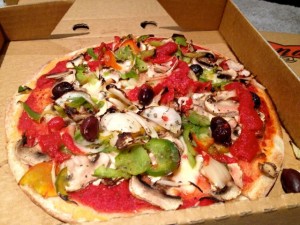 Read more about their yummy pizzas here
Order Madonnas through Menulog here
Cafe Saigon – Port Melbourne
When you need a fix of mini spring rolls with fresh iceburg and herbs to wrap in, or tasty satay sticks with chicken or beef or a hot and spicy curry this is the place. Never a bad dish and always super quick, we love!!
Check out Cafe Saigon on Menulog here
Pizza Societe – Docklands
A strong contender for the best pizzas, only tried this one the other night and was very, very happy. Arrived ahead of schedule and piping hot and with a smile and a greeting to our cat! The herb and garlic pizza with extra mushrooms is now officially my Saturday night treat – or any night where stinking of garlic won't be a problem the next day!
Check out Pizza Societe on Menulog here
Red Petite – South Melbourne
The tiniest little restaurant if you can't get a seat, Menulog can bring Red Petite to you! Great selection of curries, noodles and nibbles.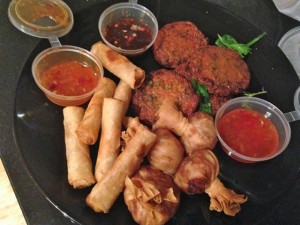 Check out Red Petite on Menulog here
So when you need dinner brought to you or like me the other night when we had friends coming for dinner and the curry I cooked went very wrong – you can get Menulog to deliver and no one will every know!
Download the Menulog app today or visit the website here for dinner delivered hot and ready to go.