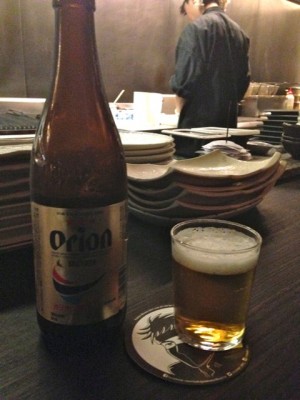 Below was my first post ever on FoodieAboutTown and an old favourite Izakaya Den. No photos as the place is so lovely and dimly lit and my phone was old school and I wouldn't ever use a flash! Izakaya Den has been a fave for many years and the menu does change over the years the old favourites stay.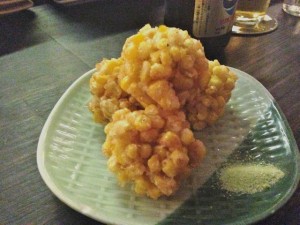 Like sweetcorn Kaki-age with green tea salt, so gorgeous and delicious you can barely wait for them to cool!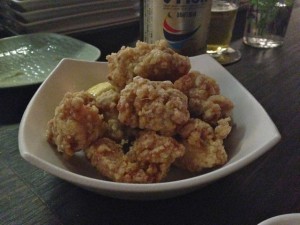 Of Den Fried Chicken, gorgeous chicken with crispy, spiced coating – just finger licking delish!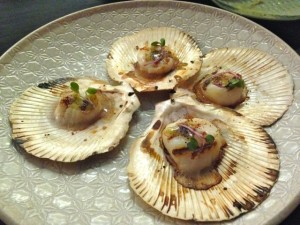 The scallops in wasabi oil are high in $$'s and flavour! A beautiful dish with great fresh produce and the wasabi oil is a hit but they really should be at $6 a pop!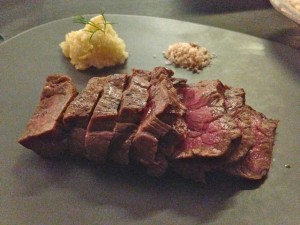 Grilled Wagyu rump with fennel salsa and garlic salt, melt in the mouth fabulous, that garlic salt is perfect and the fennel salsa goes perfectly with the steak.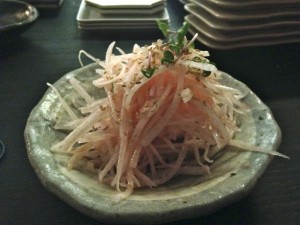 Daikon salad with rhubarb dressing was fresh and zingy, a great palate cleanser as we work through our feast.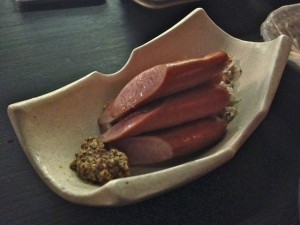 Berkshire pork sausage! Hubby is thrilled to get a bowl full of sausage and mustard.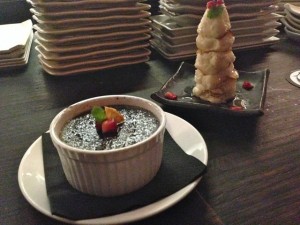 And then there was dessert! Try to ignore the interesting presentation for the apple millefeuille, the black sesame creme brulee was beautifully done, not as good as my fave green tea one they used to do but still creamy, rich and crispy. The apple millefeuille was entertaining but not as expected for a traditional millefeuille this was apple and ice cream….. I was looking forward to pastry and cream but I get this is there version, but maybe a warning for ice cream – baby it's cold outside!!
*****************************************************************************
Last published 10th March 2011
Izakaya Den, the hidden staircase, the dramatic black curtain and then the amazing corridor of Izakaya goodness!!
Our visit on a Friday night was risky, who knew when we might get a table, the welcome was impeccable as always.  We quickly received a spot to view the menus and drinks.  The sake, beer and wine list is extensive and the Yebisu was refreshing and then within ten minutes we were seated at the 'bar'.
The staff are busy working away infront of us and its always a pleasure to watch – no Ramsey-esque screaming here!  The next 30 minutes are filled with Foodie Heaven, the Den Fried Chicken fought to be be the best dish of the night, the daikon salad was crisp and sharp, the crispy cocktail potato with anchovy butter is making my mouth drool right now!  The crispy prawns with thick japanese mayo were hard to not get another order BUT dessert was legendary! Houjicha (GreenTea) ice cream and black sesame brulee was outstanding.  Accompanied by a glass of Foster e Rocco Sangiovese and it was a near to perfect as could be! Thanks Izakaya!
Shame the gig afterwards sucked so badly!!