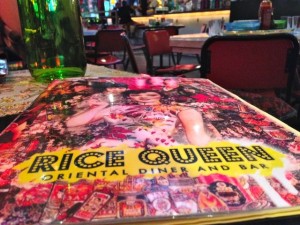 Such a great restaurant, fun, flirty and fabulous, a night at Rice Queen is always a good one. The staff are easy going, the menu is a ridiculously delicious and the food is the best. It's so hard not to over order when you start working your way through the list of dishes you MUST have.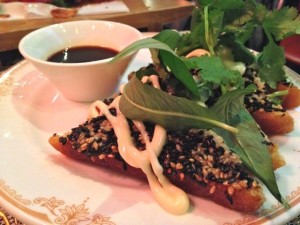 The most amazing sesame prawn toasts with garlic chives, black caramel vinegar and cheeky squeeze of kewpie. So very, very good!
A little pile of caramelized pork bites with twice cooked pork belly served with green nam jim, crispy shallots and garlic chips ….. oh yes!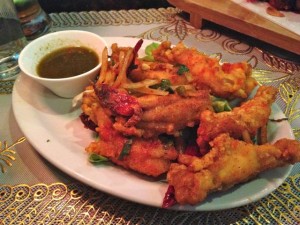 The most amazing KFC (Korean Fried Chicken) a pile of Eric's lip smacking seven spice crispy chicken ribs tossed with spring onions and whole chillies and served with mint sauce. Bring me a bucket of these anytime, they are sooooo good.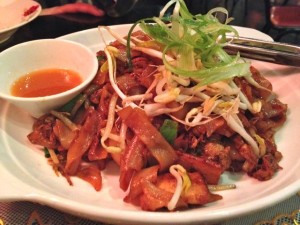 Penang Kuay Teo – Flat rice noodles wok fried with servings of prawns, sausage, bean sprouts and spring onions, ok I may have over ordered! But it is all so very delicious, I want to eat it all!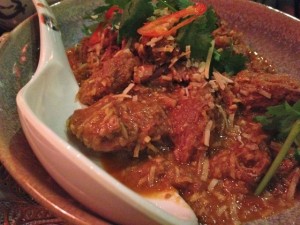 The Indonesian Beef Rendang with kaffir lime leaf and toasted coconut was nice, I think we were too full to really appreciate it with the fresh roti.
Great place to enjoy a drink and of you can't do dinner just beer and that KFC.
****************************************************************
LAST PUBLISHED 7th AUGUST 2013
Firstly – Rice Queen has moved!! A short trot from their old location on Smith Street, they are now on the hustle and bustle of Brunswick Street and are looking very at home!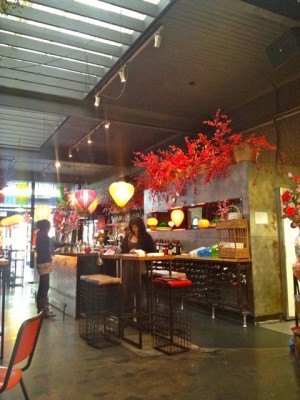 Still very much the Rice Queen we know and love but now with a Karaoke room!! The food is still exceptional and one of those places you find yourself drooling onto the keyboard as you blog!!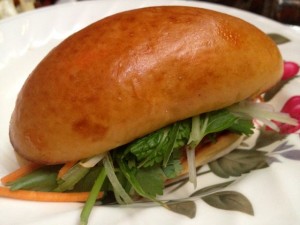 For all those getting bored with big sloppy pulled pork rolls and sliders we have 'Baby Bahn mi' Rice Queens take on the classic Vietnamese street food with their own pickles, fresh salad, gochujang and kewpie mayo plus delicious pulled pork – YUM!!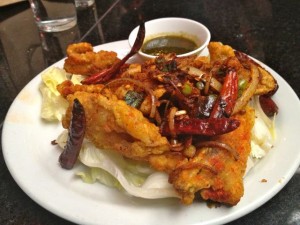 I wasn't too bothered about the old KFC dish, over the hilarious namesake that is usually some greasey chicken with some clever twist this was a new high in the land of CHICKEN! Eric's seven spice crispy chicken ribs tossed with spring onions and whole chillies and served with an amazing mint sauce is one of the best dishes of the year! Could go back now for those spicy, succulent little babies!!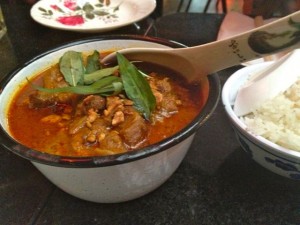 Massaman beef curry served with spiced peanuts is textbook perfect and I could smash a bowl right now!!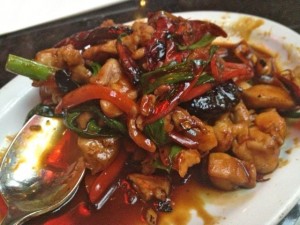 Gong pao ji ding – kung pow chicken is glorious! Wok fried chicken with chilli and peanuts and steamed jasmine rice – did I mention chilli? Not like that sad little effort I was stuck with the other night, oh no is is POW and I love it!!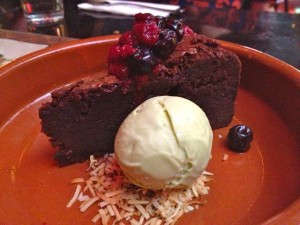 Again a dish I wasn't fussed about, one cake and seven spoons, all good! BUT OMGGGGG!! The Chocolate cake was really good and yummy but the kaffir lime ice cream was to die for!! Such a smack in the face of delightful flavour! Brilliant!!
I feel it will not be long before we come knocking again Queenie!!
*****************************************************************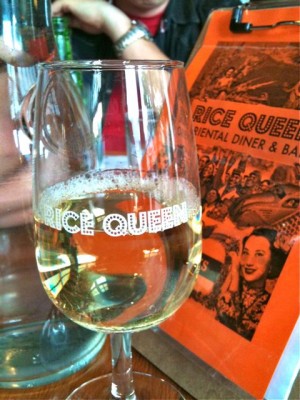 Previously blogged 8th December 2011
It's taken far too long to finally make it to Rice Queen! But we have and it ROCKS!!!
From the eclectic mismatched furniture to the amazing turquoise flowers stencilled on the walls it is a stunning space! In the same building as the lovely Panama Dining room, it has the same converted warehouse appeal and the massive space is filled with a mix of comfy loungy areas and plenty of tables for few to many to enjoy a great feed!.
The menu is entertaining and tempting! Full of amazing sounding dishes packed wth plenty of chilli and spice!
We start with the Shaoyazi Pancakes – Peking roast duck served with shredded cucumber, spring onion and hoisin sauce. It's a make your own up and it is great fun to take the delicate, velvety pancakes and fill with succulent roast duck, cool cucumber, spring onion and yummy hoisin sauce…. yummmmm!!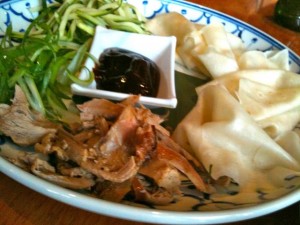 The cauliflower and potato pakora with mint yoghurt are crunchy on the outside and super soft and lovely in the middle, delicately spiced and perfect with the minty creamy dip.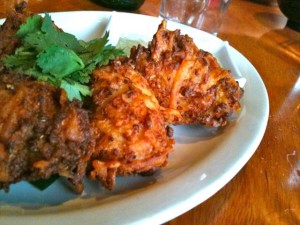 From there we all have a main dish to tuck into along with rice and some of the best roti chani I have ever had – so beautiful, soft, flaky…. stunning!!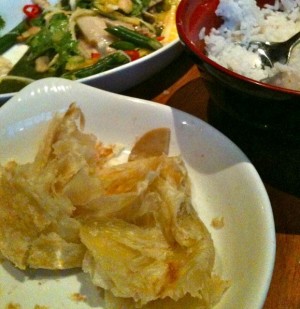 My 'Ma Yi Shang Shu' Also known as Ants Climbing A Tree, is just wonderful! Stir fried pork with bean thread noodles in a classic Sichuan chilli sauce it is everything I love about a good noodle dish. With a decent level of heat, fantastic thin noodles dotted with little nuggets of pork, it is YUMMMMMMM!!!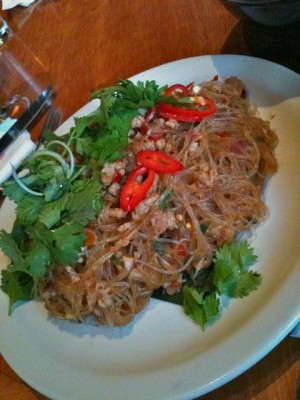 The 'Samaran' a rich Cambodian curry of braised beef and beetroot spiced with cardomom and ginger is a great hearty dish with a combo that you might not be too sure about but it works really well and with hunks of flaking beef and juicy beetroots it's a winner!!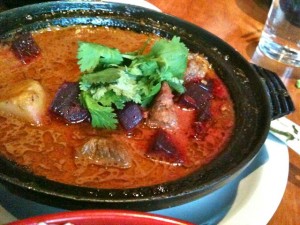 The 'Kanji Udon' A hot pot of roast duck, shitake, king enoki, shimji, and oyster mushrooms, snow peas with Udon noodles is a big bowl of heart warming lusciousness! Plenty of duck with thick juicy noodles and plenty of mushroom fun! It got the thumbs up from this lucky boy!!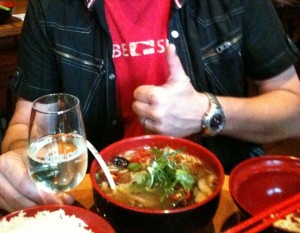 The 'Babi Guling' Described on the menu as 'No festival in Bali would be complete without this dish of Balinese roast pork belly with a green bean, toasted coconut and chilli salad and toasted almonds' is great, I read roast pork belly and expected big hunks of cracking covered pork but this is delicate slices without the fattiness that you would normally get. Combined with the coconut, chilli and the lovely juicy mango it is a wonderful healthy zingy dish with that wonderful mix of sweet and spicy hmmmmmmmmm!!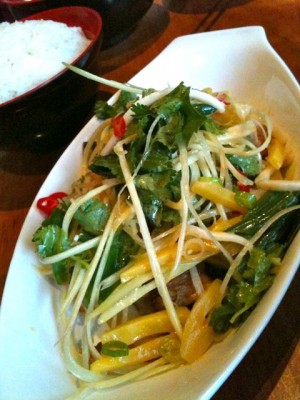 I loved every minute at Rice Queen and cannot wait to head back and spend a lot more time there!