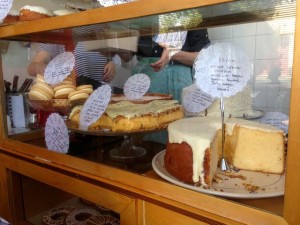 Beautiful little Beatrix, baking with love in North Melbourne and popping out a damn good brunch too. It is very small, barely 15 seats but we were in luck with a perfect table for two in front of the till stand with a glass box full of delectable cakes – both torturous and delightful!!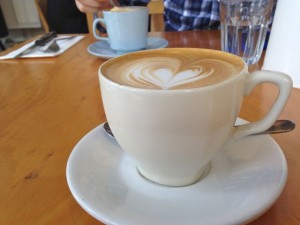 If the coffee is anything to go by we are going to be in foodie heaven today! Creamy, rich and gone too fast! Love a good coffee and this is up there with the best.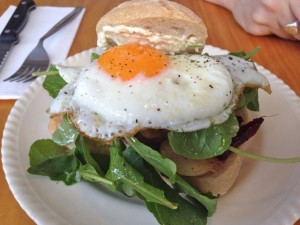 The menu is a little list of delicious treats and Hubby goes the Begbie – free range fried egg on ciabatta with roasted beetroot and a sensational apple aioli – have to try and make that one day it was wonderful with the acidic bite of the apple and the creamy aioli.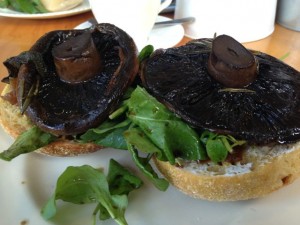 Oh I love mushrooms and when Beatrix makes them she knows how to make them sing! The 'Grug' on incredibly dense pumpkin bread with mushrooms roasted with rosemary and thyme, goats cheese, balsamic greens and caramalised onions. WOWSERS!! Beatrix you are the best!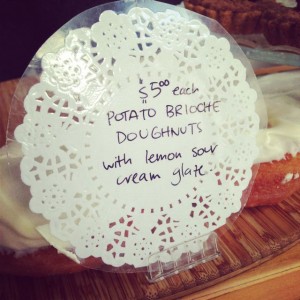 After an amazing brunch, we have debated, negotiated, listed and re-listed…. what cakes shall we take home?! It's a touch decision but we finalise it down to three! The potato brioche doughnut with sour cream lemon glaze, the red velvet cakes is a must and hubby goes for the tiramisu slice. Apparently tiramisu translates to 'pick me up' so it would be rude not to!!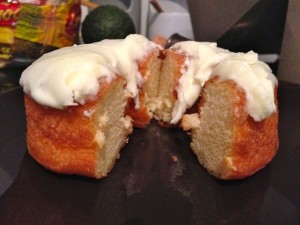 So thanks to Beatrix we spent the rest of the weekend eating cake! And it was a great way to spend that time, the potato brioche doughnut was sensational, worth the trip to North Melbourne alone. That sour cream lemon glaze is to die for. Red Velvet cake – best i ever had and the little pick me up Tiramisu – picked us both up and took us to the happiest place!
I don't think you need any other convincing than to get yourselves to Beatrix as soon as you can – heaven in a cake box awaits!