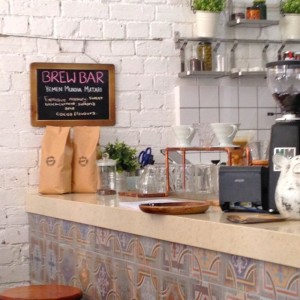 Apparently there aren't many good spots for coffee and breakie on this end of Sydney Road, or perhaps it's the new hipster joint that got written up that week and everyone turned up on Saturday morning to see what the fuss was about.
Should have seen the warning signs there and then, too new, too slammed and a queue out the door for tables. It does look gorgeous and the staff didn't seem too harassed by the time we got in to our table. The realisation that there is double the tables out back in the courtyard means there is a lot more to this place and a lot more coffees to make than we thought!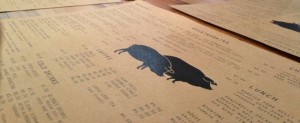 Our waitress warned us there was a bit of a wait, we were all catching up so not in a hurry to be anywhere – bring on the pork! Menu is impressive, dishes with thought, love and complexity – to a point. A lot of the dishes are using slow cooked pork and beef that is obviously prepared in advance. Teamed up with eggs, toast, fries or peas. Each dish seems to have a little something extra, jamon with hollandaise, duck pate with goats cheese, rhubarb waffles and bangers and hash. No waffles left today though 🙁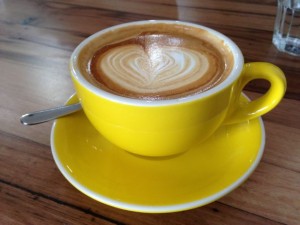 The coffee tickets are piling up and thirty minutes in our coffees finally arrive and they are lovely, glad I ordered the large! At that point they have started telling new tables that they can only serve coffee at this point no food orders to be taken. Sure sign that the kitchen is in the weeds and needs a Hail Mary to get them back on track – fair enough.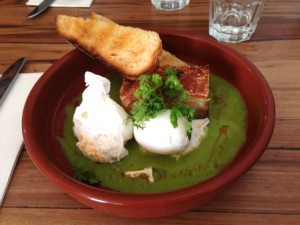 Well over an hour since we sat down, our food arrives and sadly it wasn't worth the wait. My Peas & Ham described as crisp roasted pork belly, poached eggs and green pea velouté with toast. The sad wail of a girl served soggy skinned pork belly……… Not delicious crispy pork belly in anyway. Massive disappointment.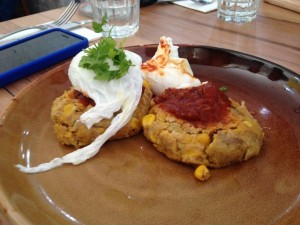 Hubby had the 'Bubble and Squeak' – poached eggs with chickpea fritters of braised beef, caramelised onion, truffle oil and corn. The fact I asked where the beef wasn't a good sign, dry, unappetising and again just a bit sad.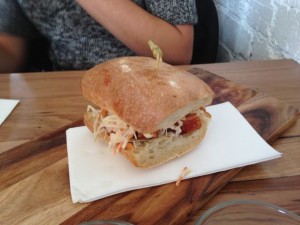 Our friends had gone the lunchy side of brunch with the roasted pork roll, beef sandwich and fries. It seemed ok.
Maybe it was the wait that made us less emphatic about the food but it was disappointing all round, the waitress blatantly avoided coming near us after the coffees, our food miraculously arrived when my pleading eyes caught hers briefly and mouthed "how much longer?". The moment the boys went to pay wave the electrics all cut out, maybe it was the chef calling time, who knows, but that wasn't going to help those still waiting.
As always, everyone has a bad day, this was definitely that, it feels like they have the right approach and it's obviously set up with real passion, just need to get their groove and turn those tables.