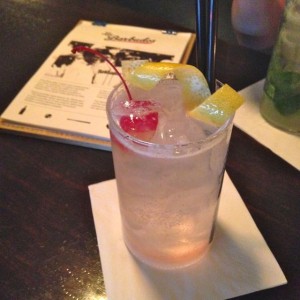 Drop into Los Barbudos for a Ron Collins cocktail, $10 of fun and I cannot get enough of them! Apparently a product of the prohibition era, Americans running to Cuba for a drink brought with them this fresh and tangy classic. Simply rum, sugar, lemon and soda and a cheeky cherry. Fabulous! Made me giggle that Los Barbudos translates to 'the bearded ones' hailing back to Castros guerrilla baseball team but even more suited to the bearded hipsters taking over Smith Street!
Great bar, great staff, great tunes and then out the back – great food! Jabili's Kitchen food truck has set up in the back and they are offering reasonably priced, incredibly tasty food.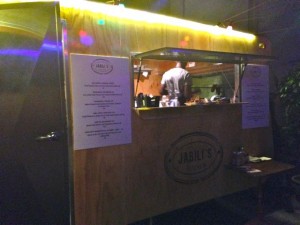 Jabili's is offering food truck fare with a modern African twist and it is brilliant. We went for everything but the wings (girls and their nails!!).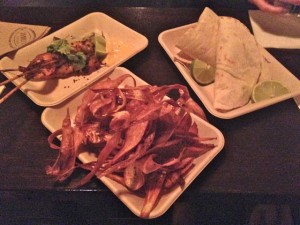 Za'atar crisps – parsnip crisps in Za'atar with lemon yoghurt – soooo thin they melt in the mouth, one of those dishes you keep eating and could never get full! The Tunisian tacos yoghurt braised lamb shoulder with sukkah, tabbouleh and coriander sauce were so good we ordered a second round. Succulent lamb with gorgeous spices and flavours. Harissa spiced skewered prawns with harissa cocktail sauce – LOVE LOVE LOVE, sooooo good!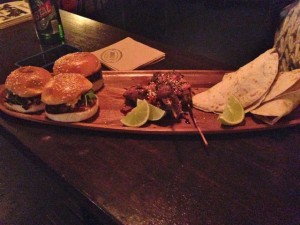 Kefta skewers spiced lamb skewers with pomegranate molasses perfectly cooked, again packed full of flavour and so juicy. The vegetarian option was the winner 'Grilled Moroccan slider spiced lentils, pine nuts and fig with tofu aioli with red cabbage slaw' the best slider on Smith Street, loved these.
A great place to spend a night, smiles and friendly faces all round, great cocktails and love that food.