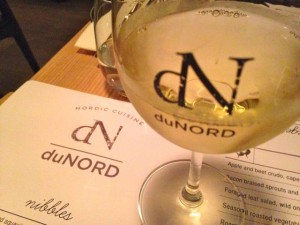 My perfect Friday night, late night shopping and a little lovely food and wine. duNord has been around for a little while but it looks like they have finished all the fit out and have found their groove. Staff are lovely, we snaffle the last table and settle in with a fabulous Orange NSW Chardonnay.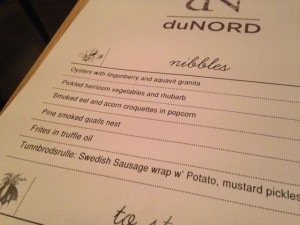 The menu is Scandinavian and I love it! Lots of lovely nibbles as well as fantastic larger dishes like Pressed pork loin with sorrel puree and sherry chard, scallion and walnut or Blackberry glazed dry aged mutton with pea puree and forest berries and bergamot.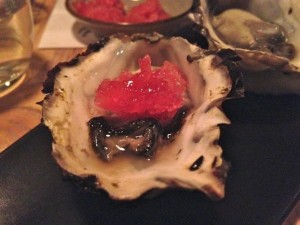 Introducing the 'Oysters with lingonberry and aquavit granita' The aquavit is a Scandinavian spirit and the granita is beautifully refreshing and sharp.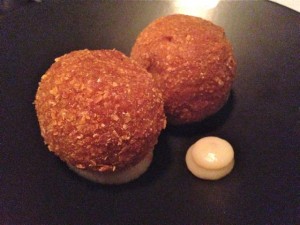 Holy Moly! The 'Smoked eel and acorn croquettes in popcorn' are absolutely bloody amazing. So good we had to order another round! Super crunchy thin skin packed full of mega creamy, oozy beautiful smoked eel with a crunch of acorn …….. who knew you could get acorns in Melbourne!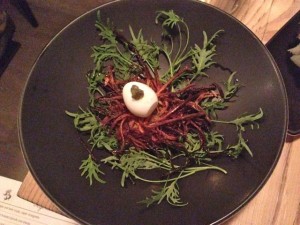 With all the drama and finesse of Vue de Monde our understated 'Pine smoked quails nest' arrives with a dome of smoke and cheers of celebration! The simple looking dish is a perfect quails egg on a rosti – amazing!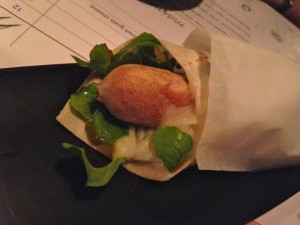 The finale – Tronnbrodsrulle – Sausage wrap with potato and pickle is my husbands favourite! Sausage wrapped in mash in a wrap… brilliant!
Loved, loved, loved, great vibe, great fit out, gorgeous staff and can't wait to come back! Especially desserts – Lavender ice cream, lemon and vanilla sponge, white chocolate soil or Schnapps panacotta, puffed honeycomb. Yum!