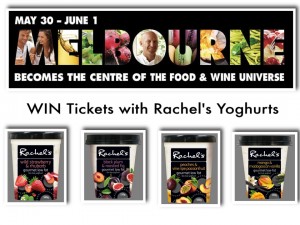 Rachel's Yoghurt Good Food & Wine Show 2014 Ticket Giveaway NOW CLOSED
Have you been along to The Good Food & Wine Show yet? A Melbourne institution for discovering new foodie treats, catching up with old favourites and sampling wines from all over Australia is one convenient spot.
See below for blogs from our previous visits and if you feel inspired then look no further. To celebrate being a major partner of this year's Good Food & Wine Show, Rachel's Gourmet Yoghurt would like to offer all fans of Foodie About Town the chance to win 2 X free tickets to the Melbourne Show 30th May – 1st June 201.
All you have to do is place a comment below on why you want to visit this years GF&WS before 28th May 2014 and we will email our lucky winner their tickets. Good Luck! NOW CLOSED
Congrats to Stephanie our lucky winner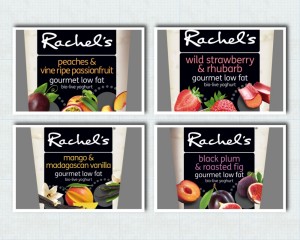 Rachel's yoghurts are available in four great flavours, super delicious and you can try them all at this years Good Food & Wine Show. Choose from;
– Wild Strawberry & Rhubarb
– Black Plum & Roasted Fig
– Peaches & Vine Ripened Passionfruit
– Mango & Madagascan Vanilla
Find out more about GF&WS click here
**************************************************************
The best Melbourne Good Food & Wine show yet!

Last published 5th June 2011
Our seventh Melbourne Good Food and Wine Show and we are daring to go on a Saturday rather than our usual Friday outing!
The day starts with an easy jaunt down Clarendon Street armed with two trolleys, this time its serious!!
Sadly Ticketek seemed to have caused a chaotic queue of hundreds of people – the no easy ticket option to print your own, it has resulted in a never ending line of miserable frustrated people – fortunately there is no queue at the General Admission box office so we decided to buy another round of tickets rather than lose an hour of valuable GFWS!
Our gamble paid off as we walked straight in and at the box office inside we score free tickets for Manu, George and Gary and we also get two more tickets for the Poh show rather than join the queue of misery!
Fortunately most people are still stuck outside so the stands aren't too busy and we have an hour of fun running around and visiting old favourites and new recruits!
Happy to see Organic times for their amazing cookies, Small goods of the Riverland and their amazing salami, Chipman with their great corn chips and new sweet potato chips, Tuckers gourmet crackers, Bondi Chai and Bio Grape sauces and pastes to name just a few!
The show bags were good but I was surprisingly restrained and only went for the Good Taste bag, $15 of fun with Tim Tams, mustard, tuna, pesto, spaghetti and lots of new samples to try.
The only sad point of the show was that due to my obsessive cookery book habit all of the magazine subscription offers included books we already have so not as good a deal!!
Trolleys packed to the seams we trundle home for a quick drop off before returning for show number one – Manu Fieldel and recipes from his first book launched this year 'Manu's French Kitchen'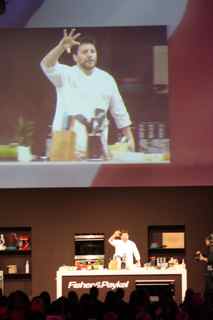 Manu was spectacular! The opening saucy video set the tone as Manu appeared on his bicycle, cute and a bit out of breath he was ready to take a packed out theatre through some of the delights in his new book. His recipes are classic French dishes that introduce something a bit different to a live cooking show and I was entralled with the Mussel and saffron Pie, Baked Witlof and Ham Gratin and Poached Pears – with chantilly cream, ice cream and chocolate sauce, you'd need to be on Dancing with the Stars to work off those calories!!
An absolute pleasure to have scored tickets for the show and seen the man in action!! Very cute that his little man, Jonti, was also in the audience!
Next up was the lovely Poh, doing her own set up, no entourage for Poh yet, she's keeping in real! Her success on the ABC show was obvious in her relaxed approach to cooking infront of a live audience.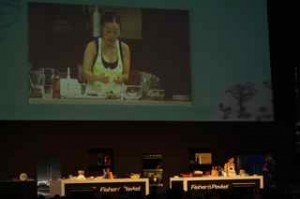 The lilypad rhubarb dessert she produced was amazing and really impressive to do something so challenging on the short time she had! But it was something that I would definitely want to try and master at home as it looked so amazing on the plate!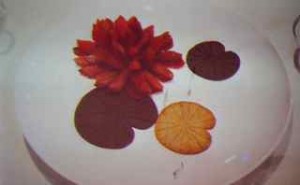 Poh is incredibly clever and very endearing I smiled everytime her laughter filled the theatre!
In the break between shows we visited the wineries, tasting glass at the ready to caught up with Wild Dog, Cannibal Creek, Woodstock, Zema, Raidis, Avon ridge, Howling Wolves and my new favourite Angove. The discovery of ginger wine was a revelation, hilarious that it is an institution from the 1700's but we all have to catch up eventually! The Gold Sparkling was refreshing and exciting and at $8 it was a bargain and was quickly in the trolley!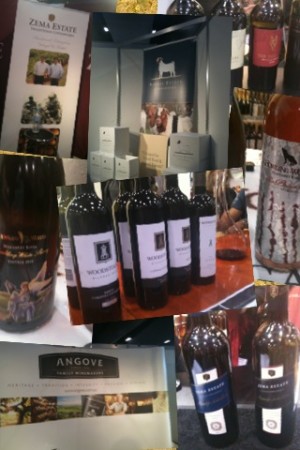 It was great to catch up with Woodstock and replenish our stock of Botrytis and Muscat!
Back in the Celebrity theatre and the boys are back in town! Gary and George were brilliant, they make a great comedy duo and the show was all fun and food! The Millionaires Moussaka looked amazing and oysters with black bean vinaigrette looked gorgeous.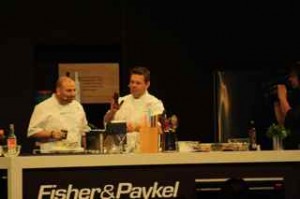 And then it was time to pull the last trolley home for another year, thanks to everyone involved in the Good Food and Wine shows, they get better and better every year – apart from the ticketing!