Strawberry & Rhubarb Yoghurt Mousse Cake
An amazing cake recipe a friend gave me many years ago that works across all sorts of seasonal fruits. The ingredients make a wet batter and with very little flour the end result is a light and fluffy cake, like a mousse. Rachel's Strawberry & Rhubarb is a perfect measure of fruit and yoghurt and the pureed rhubarb permeates through the mousse so every bite is fruity and delicious.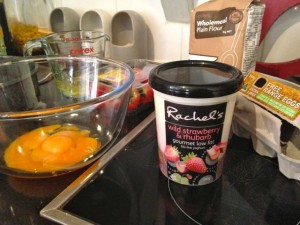 Ingredients;
1 tub of Rachel's Strawberry & Rhubarb Yoghurt
Fresh strawberries washed and halved
1/2 cup sugar
4 tbsp wholemeal flour
4 eggs, separated
Zest of 1 lemon
Method;

Preheat the oven to 180 degrees.
Using electric beaters cream the egg yolks with the sugar for 2 minutes.
Beat in the flour and add the yoghurt and lemon zest.
Whisk egg whites until stiff and then fold into the mix gently until combined but keeping the air.
Pour into a lined and greased pan and place the strawberry halves on the top.
Bake for 55 mins until cake has risen and is brown without too much wobble in the middle! The cake will come out quite high and fluffy and then collapse down as it cools, don't be disappointed!!