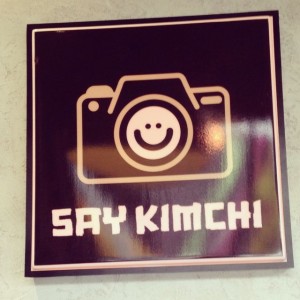 Welcome to South Melbourne Patbingsoo! Very pleased to meet you and thanks for bringing your beautiful Korean food to our doorstep. The attention to detail in this place is remarkable, everything is carefully considered and thoughtful. The fit out is gorgeous, looking around you constantly see something else that makes you smile or realise that Patbingsoo has been set up with real passion and love for all things Korean.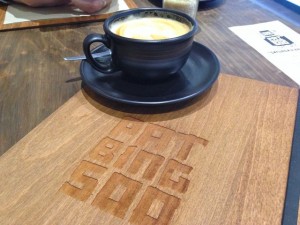 Gorgeous coffee, whilst we work our way through the menu – so good.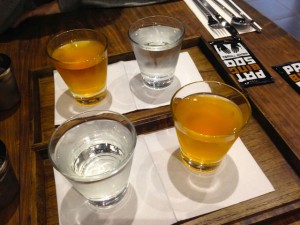 Patbingsoo make their own Kombucha which is a fermented tea full of super healthy properties to get you on the right track, we tried the ginger and lemongrass and also the ginger and cinnamon – both were so lovely.
The menu is packed full of great dishes, tacos, burgers, Korean Fried Rice, salads, nibbles including Smoked Trout Croquettes – LOVE! Super crunchy and love that aioli.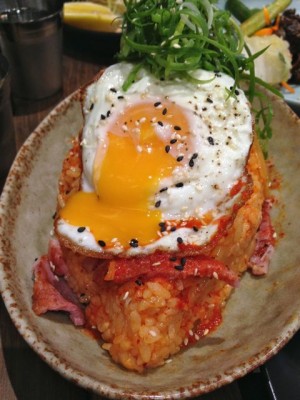 The Korean fried rice with gammon and egg is such a great dish, flavour packed rice with a runny egg = perfection!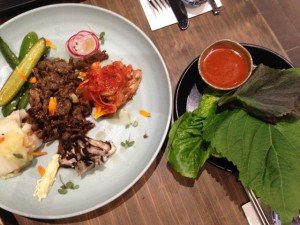 Ssam wraps – Rangers Valley Wagyu beef with white kimchi, cucumber pickle, shitake and mixed Asian leaves. So incredibly tasty, the leaves are beautiful and soft and the beef…. oh the beef! So melt in the mouth succulent and tasty. I loved this dish, so many different flavours and so delish!
Finish off with a roasted brown rice tea, there are plenty to choose from. It's a top spot and I cannot wait for them to be open for dinner!