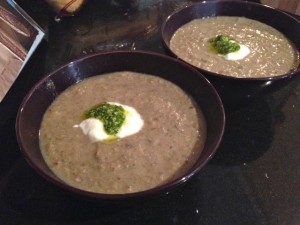 On a cold winters day there is nothing as comforting as a bowl of hot mushroom soup with a crusty baguette.
Ingredients;
1 onion, finely chopped
500 grams button mushrooms
Knob of butter
2 sprigs of thyme
Splash of wine wine
1 garlic clove crushed
500 mls Chicken Stock
To garnish – yoghurt and green pesto
Recipe;
Cook the onions and garlic in a saucepan in a touch of olive oil until translucent and then add the mushrooms, thyme, wine and butter and cook down until all the moisture from the mushrooms and wine has cooked away. Add the stock and leave to simmer for 15 minutes.
Once down you will need to liquidize with a hand blender to create your soup but feel free to leave plenty of lumps of mushroom to enjoy!
Serve straight away with garnish and lovely fresh crusty bread.