Lunch can be a sad time some days, a pre-packed cheese sandwich is no match for the mighty Bourbon Street – a lunch delivery service offering slow-cooked, Southern inspired soul food. Currently delivering free to Melbourne CBD, Docklands, South Melbourne, Albert Park and South Yarra, we were lucky enough to be invited to trial a little lunch delivery ourselves. On a manic Weds the call of lunch waiting for me made we skip down to meet my lovely delivery dude. And what was delivered?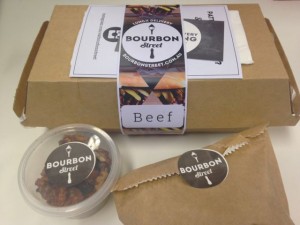 WOW! No soggy tuna roll today, we have the BBQ Beef – "Husky, 'pack-a-day' Beef slow-cooked for 10 hours. Coated respectfully in our home made 'smoke'-y BBQ sauce with traditional coleslaw and pickles". Quite simply sensational! That coleslaw hidden under all that luscious meat is creamy, crunchy and divine.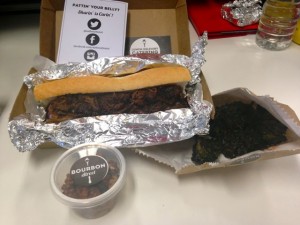 Our lunch comes with a side of caramalised walnuts and crispy kale chips…..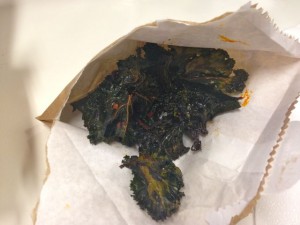 Super crispy and super spicy these were a modern day miracle – cooked up and delivered to my door and still crispy and lovely and whole!
Best lunch I have had all week and delivered on time and with a smile – to brighten your lunch time check out Bourbon Streets lunch delivery service click here