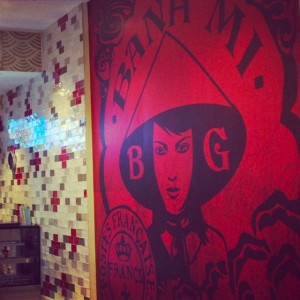 I'll admit I wasn't sure when I saw Ba'get pop up, would it be authentic Banh Mi or that modern twist that loses the very soul of what makes the Vietnamese French fusion sandwich work so well?
The answer is a very big YES! It is fabulous! We were lucky enough to be invited to pop in to spend a evening with the guys and learn a little bit more of what goes on in Ba'get and it is not just a very lovely Banh Mi! Firstly can we talk cocktails? And even better cocktails with chilli!!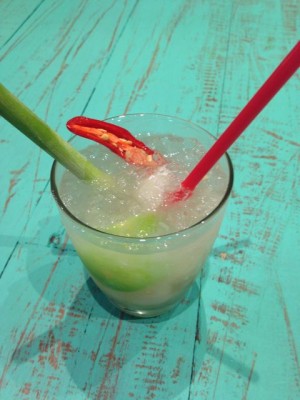 The Peaceful Dragon – with gin, lychee and lemongrass and a fire of chilli – OH YES!! These are perfection, all my favourite flavours and so lovely and fresh – in fact I am off to buy a bottle of gin right now to make one!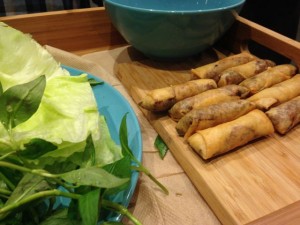 The perfect snack with your favourite cocktail? Delicious little spring rolls with fresh herbs and lettuce….. oh I could eat a lot of these lovelies!!
But it's the banh mi I want and I love hearing more from the guys about how their father used to support his family and sell the fresh baguettes to everyone in the village. And now they make their own beautiful fresh baguettes each day and tonight we have mini banh mi in crusty fresh bread. Made with love, for sure!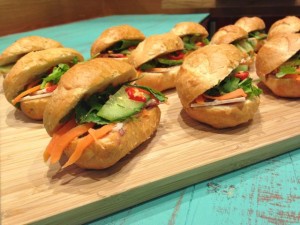 So very delicious and made with the best ingredients, all made in house from the perfect baguette to the pate, the meats, the chilli paste and that sensational grilled pork. But you can banh mi it up with meatballs, tofu, chicken and much more – and there is even a gluten free option!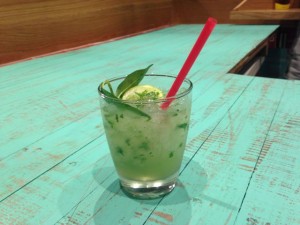 More cocktail fun with the Mekong Breeze, Vietnamese mint, rum, coriander and ginger beer – WOWSA!! This is a dangerous one, so refreshing you could easily have several and forget the rum is in there!!!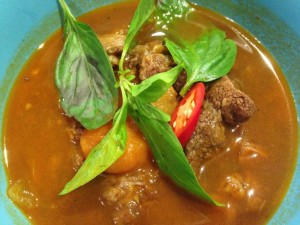 What else goes great with a gorgeous fresh baguette? Bo Kho – Spicy beef stew certainly does. We were lucky enough to be shown how to rustle up this baby in the pressure cooker and within 30 mins we all had a bowl of lovely comforting, falling apart beef stew. And you can too – see below for the recipe they guys were generous enough to share with us all.
Bo Kho – Spicy Beef Stew
2 kg Gravy beef cubed
1 tb soy sauce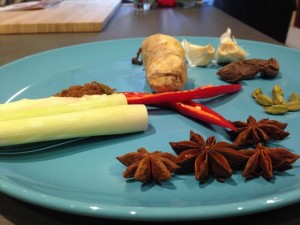 Spice salt:

3 tsp salt
4 star anise
1 cinnamon quill
12 cloves
10 cardamon pods
½ tsp chinese five spice
3 Onions, coarsely chopped
2 cloves of garlic, chopped
2 lemongrass stalks, bashed
1 thumb sized knob of ginger, bashed
1 chilli (or as desired), halved
3 tb tomato paste
4 carrots, peeled & in large chunks
½ mandarin peel, pith removed
4 cups of beef stock
Fresh coriander & thai basil to garnish
Method
1. Make spice salt: Toast spices in a dry pan on medium heat, and grind
to a fine powder with salt
2. Combine beef, spice salt with soy sauce and marinate for 30 mins
3. In a wok, stirfy onions, garlic, lemongrass, chilli and ginger so they just
take some colour. Add the beef and stirfry for 15 minutes. Add tomato
paste, carrots and mandarin peel & continue to cook for another 5
minutes
4. Add beef stock and cook for 30 mins in a pressure cooker or on a
gentle simmer for 2 hours or until tender. Serve garnished with thai
basil and coriander.
Serving suggestions
Bo Kho is traditionally served with a freshly baked baguette.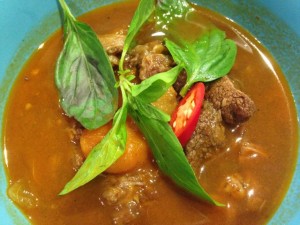 We were two very spoilt foodies tonight and I can't wait to get back for more and more… and more!
The perfect end to a lovely evening was the homemade Chai Dreaming winter warmer cocktail…..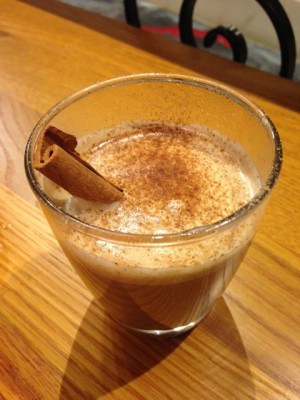 Still dreaming of that one now, it was like a big warm brandy hug!!
Get yourself down here to see the boy at Ba'get, you will not be disappointed 🙂