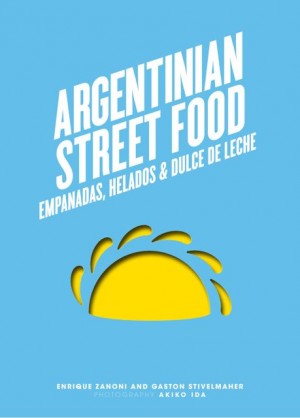 A book dedicated to Argentinian Street Food – having never been to South America, this is probably the closest I will get this week. Infact, cooking different cuisines is a great way to explore the world from your kitchen! Now this book is heavily swayed towards empanadas and ice cream or Empanadas, Helados & Dulce de Leche. And drum roll……. a key part of this is making your own pastry! For some reason I find pastry a scary proposition but like most baking, as long as you respect the recipe you should be pleasantly surprised at the outcome!
There are soooooooooooooooo many fillings for your empanadas to choose from, think every protein and flavour combo for South American taste buds and more and you've got it. I went for a traditional beef 'Carne Picante' and for something a bit different Corn and Coriander.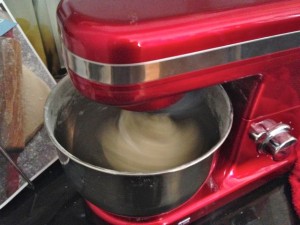 So pastry time, good to leave a day to make these beauties as the pastry needs to rest for two hours once complete. Confession – when I said respect the recipe I still whacked all my ingredients in the processor and made it do all the work! Whiz up the butter and flour and then watch that dough hook go to town!
The result was a super soft, pliable dough ready to rest up whilst I made my fillings.
Two hours later we are ready to go – let the rolling commence – no machine for that one! It's hard work, I imagine those street hawkers have some real 'rolling guns' going on after years of making their empanada case. My neck and back are aching by the time I have a dozen or so little circles waiting for filling. The other lovely thing about this book is the guides to all things Argentinian Street Food, the locations, the traditions, the history and the step by step to making your pastry, rolling your dough and the most important bit – the decoration or 'El Repulgue'! It looks pretty and super clever to help tell the different fillings by different decoration.
You can twist, bend, pinch and press to take this little circle of dough with its precious filling to the perfect empanada. My twisting or the classic name 'Carne' wasn't a bad first effort, I have a bit of a technique going and then I lost it – RSI to the thumb!! The pinch to a moon shape and then decorate with the fork was my favourite 'Cordero' – simple and effective! I didn't aspire to the 'Pastelito' or 'Humita' maybe next time!
So little egg wash and in the oven for a short time – cross fingers and have a cup of tea………………………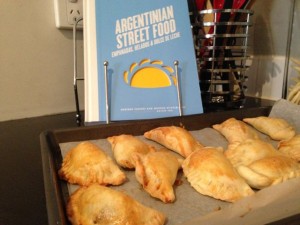 Just 20 mins later and these beautiful little golden puffs of pastry are ready, observation one – could have done for a bit longer or egg washed more for a more golden look! Observation two – should have packed more filling in and been a bit forceful with my pastry! The fear of overfilling or not sealing properly has meant we are heavy on pastry and less so on filling… that will be why I had so much filling left over!
The empanadas were a roaring success, hubby has been eating then all week and telling me how amazing I am. SO I recommend you get yourself a copy and rock out some empanadas in your kitchen, I am now off to try the ice creams and a jug of 'Clerico'!!
'Recipes and images from Argentinian Street Food by Enrique Zanoni and Gaston Stivelmaher, Murdoch Books, rrp $29.99, photographed by Akiko Ida'.