Port Melbourne has changed a lot over the years, Rouse Street used to have pretty limited options but it seems to be a little hub of activity these days.
We were lucky to get a seat at Third Wave Cafe, it was packed out with happy people branching and there was a plate of French toast at the table next to us that looked sensational. The menu is American meets Russian, breakfast is eggs, zucchini fritters, pancakes and cherry cheese blintzes. Lunch is pulled pork sliders! Reuben, quesadillas and burgers. Dinner goes into American BBQ with ribs, brisket and more.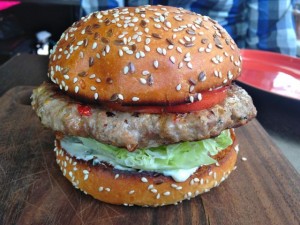 We were on The Burger Book trail so we went for the gourmet burger – porterhouse mince with spice, fetta and sun dried tomato in a brioche bun with basil mayo and fresh salad. The burger sounded a but much with the fetta and sun dried tomato but it was subtle and they let the meat hero.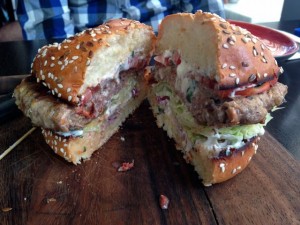 It is a big boy burger and even going halves was a challenge to finish. It was incredibly tasty and up there with the best in Melbourne!
Loved it, will have to head back for some blinis and ribs soon!