Love it! Another fabo spot on Smith Street, great staff, great space and bloody good food!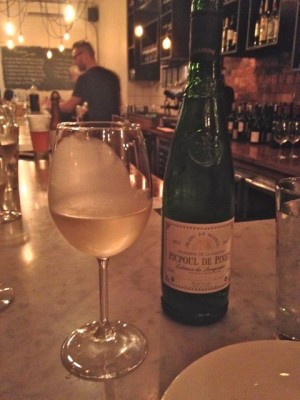 It's pretty small so not a seat is free when we rock up at the bar and take our seats. The wine list is really interesting and our new friend behind the bar is happy to let us try an unusual varietal and recommend a very lovely bottle of French Domaine de la Majone Picpoul de Pinet – wonderful!
The guys are happy to organise a selection of dishes, the menu sounds so good it's too hard to choose. The vegetarian options are good too, with a beautiful edamame dish and a tofu and grated egg dish. Oysters, tartare, shiitake skewers, duck and more. It's a bit of Aussie Asian fusion going on and I am loving it!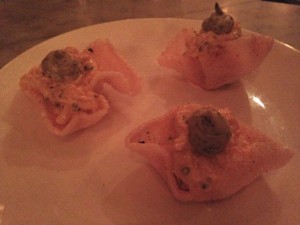 Apologies for the piccies, the lighting was lovely and soft and I didn't want to flash everyone whilst they ate!! The spiced prawn cracker with prawn and seaweed mayo is spectacular, packed full of meaty fresh prawns and mayo – can't lose!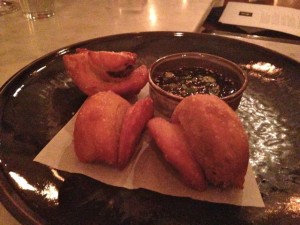 House made shallot pancake is more like a fabulous, tasty dumpling, could eat a whole heap of these with a cold beer Yum!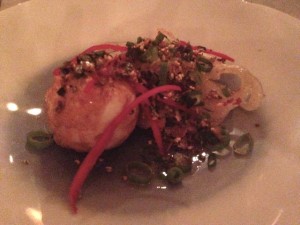 Golden egg with caramel, fried shallot and furikake, just gorgeous with heaps of flavour and that perfect egg.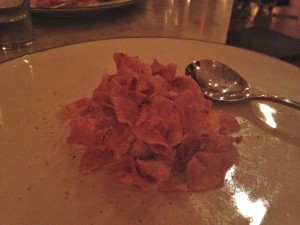 (The picture does not do it justice!) The tuna tartare with artichoke shavings, shiitake and miso, almost looks like egg and bacon in the dim lights, and it tastes amazing, gorgeous, fresh and clever.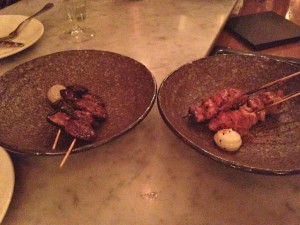 Skewers with shiitake mushrooms are beautiful and the chicken with honey and smoked soy are yummy!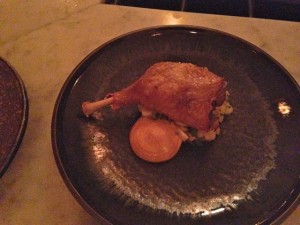 But the hero of the night, the crispy duck leg with cabbage and how sin is my favourite, big hunk of duck with a perfect crispy skin and succulent ducks.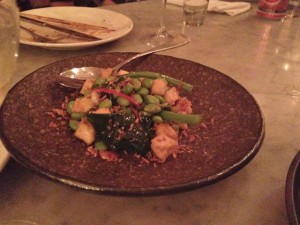 The edamame, bean curd and chilli is a great 'would never know it was veggie' dish, fresh and zingy chilli – happy days. The boys carried on with noodles and topped it all off with a broken ice cream sandwich.
A great mix of friendly service and great food – happy times.