A dodgy Italian has given way to Pho & Co, a bright, fun and delicious place to be. The branding and fit out is modern, fresh and inviting, much like the menu. A lovely list of rice paper rolls, Vietnamese salads, skewers, pork belly and Pho.
I'll be honest the pho is described as their take on a traditional favourite and I love 'traditional' pho so I left that for another time. Instead we went on a grazing feast of lots of amazing little treats.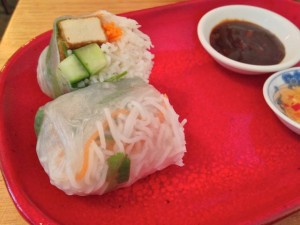 The crispy tofu rice paper roll was the best I have ever had, possibly because most are sold straight from the fridge and eaten on the go. These were wonderfully fresh with warm crispy tofu and crunchy cucumber. Loved them! Gorgeous dipping sauce and I am having all my rice paper rolls a bit warmer from now on!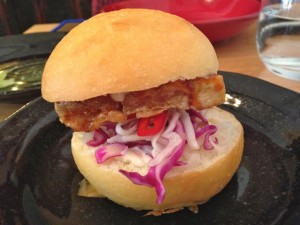 There are two slider options, pork belly with spiced caramel sauce and soft shell crab with lime mayo. The pork was a lovely hunk of belly, all succulent and a little crunch. The caramel sauce not overpowering – just perfect.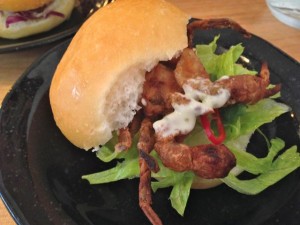 The little buns are soft and sweet and the whole soft shell crab with chilli and mayo is delightful! The wine list is impressive with a great mix of Australian wines as well as a few others and the obligatory Marlborough Sauvignon Blanc. Our WA Riesling was a perfect match with the fresh and aromatic menu.
The lemongrass chicken skewers come with a lovely fresh salad with punchy Thai basil and bean sprouts. The chicken is so juicy and delicate, a generous serve with a fabulous dressing – so good!
Just a quick lunch for us today but seeing people taking away bowls of pho and the huge bowl of prawn salad that went ask us – we will be back for more!