The loveliest spot on Clarendon Street, always a smile, cold glass of riesling and some fantastic food.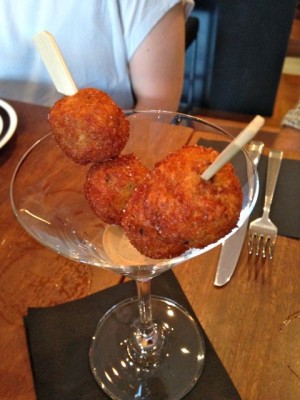 My favourite, well one of them! Scotch olives – big meaty green Sicilian olives stuffed with gruyere and cased on spicy pork – amazing!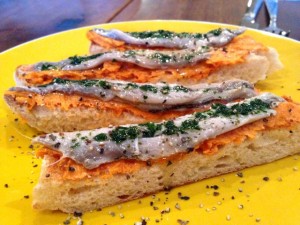 Fish fingers – grown up style with white anchovies, tomato butter and parsley oil on toasty fingers – sensational!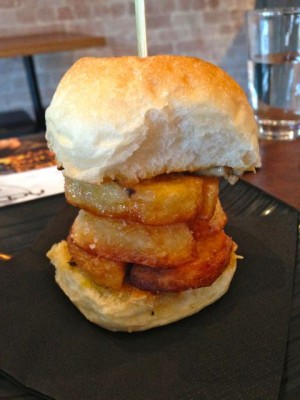 Chip butty! Oh yes, roasted duck fat potatoes in a truffle buttered roll. Need I say more?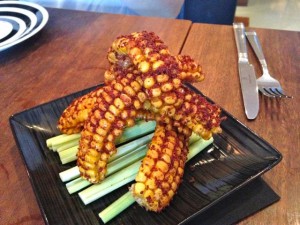 Beautiful corn 'fillets' slathered in bacon salt….. they could bottle and sell this bacon salt and I would put it on EVERYTHING!!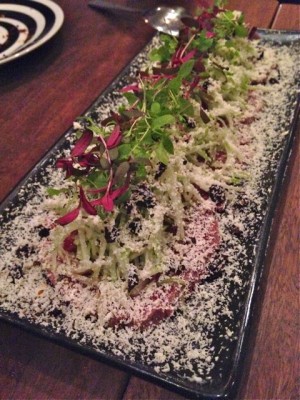 Beef carpaccio with strawberry vinocotto and dried olives. Just perfectly fresh and lovely.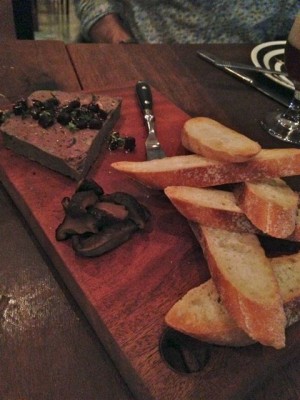 Amazing slice of chicken liver pate with pickled mushrooms and toasty bread, beautiful.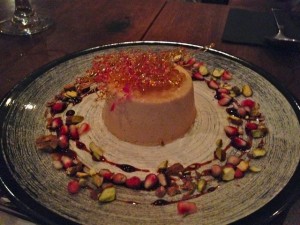 Pannacotta time, bejewelled with pomegranate and pistachios and spun sugar = fabulous!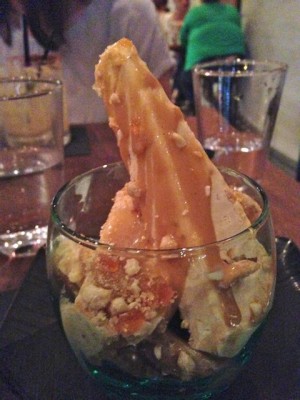 Salted peanut brittle parfait with brûléed banana and butterscotch sauce – seriously good!
Hercules Morse and perfect place to catch up with friends over some thoughtfully chosen wines and sensational food.
*************************************************************************************
Last published 26th November 2012
My mouth is watering before I even start typing from the memories of our late night tapas stop off at the lovely Hercules Morse! With a glass of pinot grigio quickly on the table we immediately go bad… very, very bad!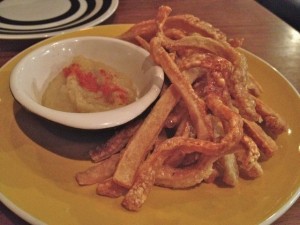 Pork Crackling with apple and fennel sauce – if you are going to eat it at least have the Rolls Royce!! Crunchy, salty naughty crackling!!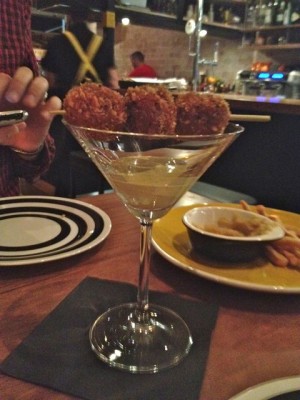 Stunning! Scotch olives – gruyere stuffed olives with spicy pork…… holy balls this is just amazing!! The spicy ranch dressing gives an extra chilli hit and I am in love with these!! Served in a martini glass is too cute too!!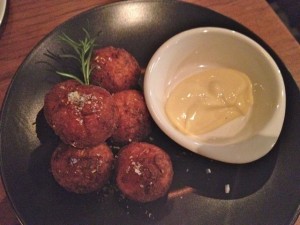 Cauliflower and cheese balls with lemon rosemary salt and dijon dipping mayo are AMAZING!! With tastes that take me back to a good old English Sunday lunch I am aware we have over ordered and I don't care!!!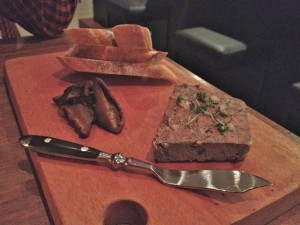 The finale – Chicken Liver pate – terrine style with porcini and pickled mushrooms – just amazing! I don't think the guys here can do anything wrong!!! So glad you are only a stones throw from home!!
Yum
—————————————————————
Published 13th July 2012

Well it's quite small but it is packing a big punch!!
Gorgeous fit out of a once very sad curry house Hercules Morse is looking fine! From the bright hits of yellow to the cute buckle aprons every detail has been finely chosen and all comes together to create a welcome and inviting atmosphere!
The menu is devised for sharing over a great glass of wine or a cold beer, we only popped in for a bite and just couldn't leave!!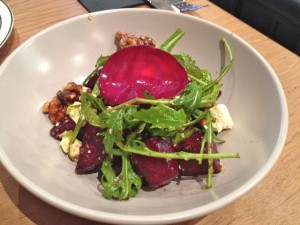 The roasted beet salad with dehydrated feta, maple walnuts and roquette pesto was divine! Warm roasted beetroots with sweet caramalised nuts – just Fab!!
Hubby went for those named after childhood treats of Chip Butty and Fish Fingers – but look closer and they are not as they might seem!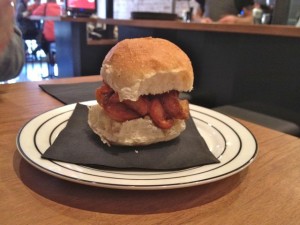 The Morse Chip Butty – roasted duck fat potatoes in a truffle buttered roll!! Come on!!! Just fabulous, order two – you will want more!!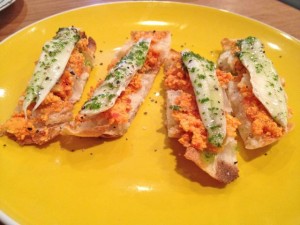 How good does that look! Not a sad breadcrumb in sight! White anchovies are a new addiction of mine and partnered with tomato butter, parsley oil and toasty fingers you will not want to share!!
The service is lovely here, seriously we weren't staying for long but the guys looked after us sooooo well we stayed for more!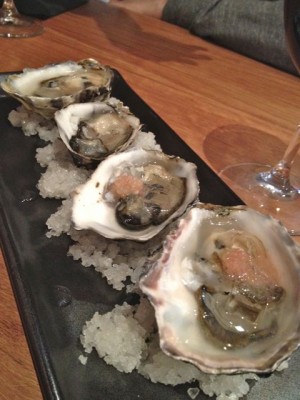 Oysters were super fresh and perfectly shucked (Happy sigh) I love 'au natural' but we did try the G&T jelly which as fun and the finger lime pearls or bloody mary sorbet sound like it is worth a mixed dozen!!
Finally a coffee! Pretty as a picture, well brewed and with a cookie – how can you not smile!?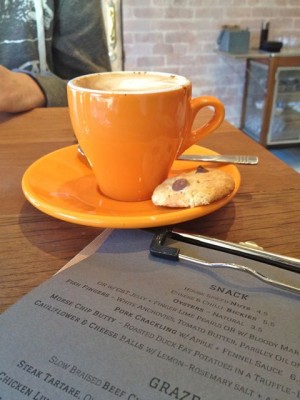 This is a perfect spot for a little wine and tapas bar and the guys are going to do well here – I might have to get a table reserved for me because one everyone catches on this is going to be the place to be!!
Oh and you might also recognise the owners!!