The little brother of one of Melbourne's finest, Café Vue at 401 lives at the City end of St Kilda Road. Looking after the working masses on a weekday, the weekend is pretty quiet and we can get a table easily on a Saturday morning.
The menu is varied with breakfast before 11.30 bringing vanilla poached pears, crepes with Nutella and bacon brioche. But we are too late and it's on to the lunch menu. Pulled pork rolls, burgers, 48 hour leg of lamb and no average sounding sandwiches.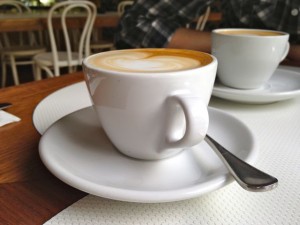 Coffee is good, creamy, rich and disappears too quick!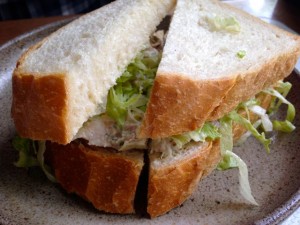 Hubbies chicken, lettuce and mayo sandwich is a chunky doorstop style with a generous filling and goes down ok.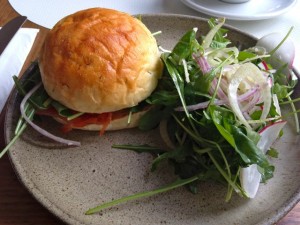 My Mark Eather smoked ocean trout with caper mayo and dill brioche is pretty good. I love the dill brioche it's beautifully made and a perfect match for the trout. The salad had a bit too much red onion and no dressing so not that nice. Unfortunately there was a huge bone in my sandwich which we fortunately discovered before it did any harm. The staff were great, apologised and removed it from the bill so no harm.
To finish off we left with a box of beautiful hot cross buns to enjoy later on …. And we did!