A good local pub, we have had many a good night catching up with friends or a bit of footy. Across from The Corner Hotel its a great place to grab a pre-gig burger.
The menu is reasonable diced pub grub, Parma, burger, steak sandwich, pastas and a handsome looking fish and chips.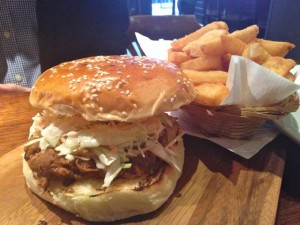 Hubbie orders the pulled pork burger with coleslaw and it's really good. Big hunks of flavoursome pork, great roll, two hands required and a pile of 'can't stop eating them' beer battered fries.
My burger is a big boy piled up with fresh salad, cheese, big fresh patty, egg and that great roll holding it all together. Tasty relish and quality meat and herb patty. Tick tick!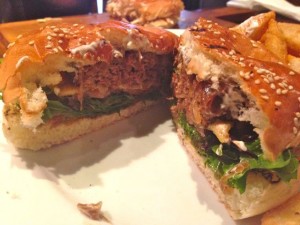 The staff were lovely, they came over and apologised for the wait and offered us a free round – we hadn't noticed the wait and weren't in any hurry but I appreciate that they were concerned – most places would wait for the complaints before they dealt with an issue.
Top spot always worth a visit 🙂