Skip the elevator and earn your lunch! Six floors up in Curtain House and you reach a little Mexican haven. Small, intimate, quirky and welcoming. Recently opened for lunch on a weekend and with the afternoon sun streaming through the windows and the kitchen ready to go we are off.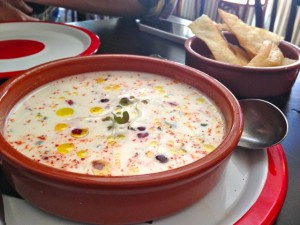 Something new for me, I had to ask what this was and I am so glad we did, Ajo blanco with totopos, a creamy, cold soup with almonds, bread, garlic and herbs. Delish! Served with little fried crisps and a spoon.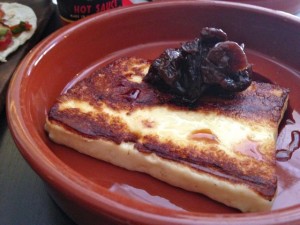 Sensational Cheesey wonderfulness! Grilled queso fresco with fruity grape chutney, WOW! Loved this, maughty but so very nice.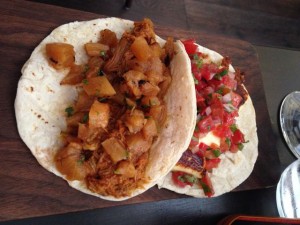 Taco time and the pulled pork with grilled pineapple and jalapeño salsa – fabo!! Still had to put a bit of homemade hot sauce to max up the spice but this was my perfect mix of savoury and sweet. I did order the chorizo and potato taco but we got the grilled panela cheese with pico de gallo. Too British to complain and hell – its a taco!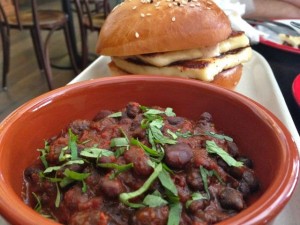 Oh dear, I got my torta and my tortilla mixed up! We are overdosing on Mexican cheese!! The black beans are out of this world, could eat these forever, so good, but couldn't face any more cheese!!!
Nice staff, good wine list and some impressive cocktails coming out of the bar. Great spot to enjoy a fun food or a relaxed drink.