In the bustling beach side of Mordialloc is a fantastic little cafe offering great food, plenty of space for families and small parties, sunny courtyard and a good cup of coffee.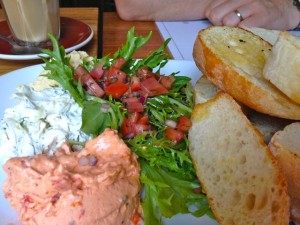 We have avoided the breakfast rush and it is pretty quiet early afternoon, we are in before the kitchen closes at 3pm. A round of lovely fresh dips first and a pile of lovely thick, fresh toasted bread.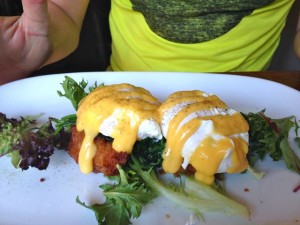 But the reason we have come is because I have heard so much about the housemade potato hash browns and eggs benedict on top. How good do they look? Crisp fluffy potato cakes make a nice change from the toasty muffin you usually get. Perfectly oozey eggs and decadent, rich, hollandaise – A wonderful brunch plate.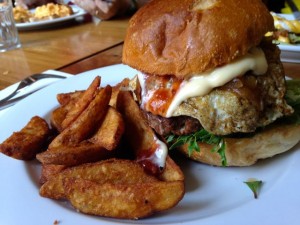 The burger is bloody good! It's massive and comes with a pile of fantastic wedges. Never a fan of egg in my burger so we whip that out and to be honest I didn't try and pick this baby up, it was a deconstruction burger day! Crisp salad leaf, plenty of ketchup and aioli, melted cheese and a beautiful burger patty. Meaty, light flavours, letting the meat speak for itself.
Fabulous!