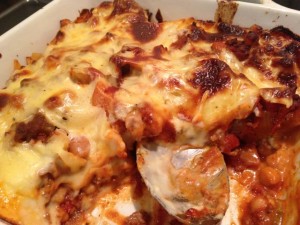 Pasta Shell Bake

Serves 4
Big Pasta Shells – enough to fit in one layer in the bottom of a medium size ceramic lasagne tray.
Bolognese;
1 tsp olive oil
1 Garlic clove crushed
500gs Mince
1 tsp mixed herbs
1 Onion
2 Celery sticks
1 Carrot
1 jar of good quality passata
Bechamel Sauce;
2 Tablespoons of plain flour
2 table spoons of butter
200 mls milk
200 grams of grated cheese
To make the bolognese;
Heat the oil in the pan and cook the onion and celery with the garlic until onions soft, add the mince and cook through. Add herbs and other vegetables and cook for a minute and then add the passata. Rinse the passata jar with 2/3 water and add to the pan. Cook low and long – ideally the day before and until it is all thick and rich! Worst case simmer for at least one hour!!
To make the bechamel;
Melt the butter in a pan and then add the flour to form a heavy paste, stirring roughly with a wooden spoon. Cook the paste for 4 minutes and then take off the heat and add 1/4 of the milk, stir through and then return to heat and whisk the remaining milk into the sauce. After 5 minutes the sauce should start to thicken up. Add the cheese and stir to melt and then you are ready to pull the pasta base together.
Pour 1/2 layer of the bolognese into the bottom of the tray and then arrange your pasta shells open side up ready to fill, spoon in the bolognese so the the shells are full. Pour over the bechamel sauce and cook in the oven for 30 – 40 minutes until bubbling, brown and gorgeous! Allow to cool before serving with a delicious crisp green salad.