A great spot to grab a cheeky curry on a Friday night, kitsch, sparkly, friendly and fun. You can usually get a table, it's a big space, but they do take bookings online. Probably BYO but it's pretty cheap for a beer or two and some yummy bhajis.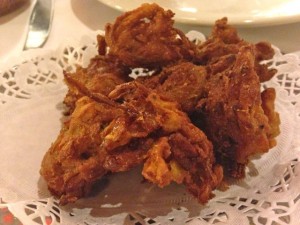 The menu is extensive, as you would expect every protein imaginable in every sauce available. Stack of good entrees samosa, pakoda and very good onion bhajis. Crunchy, not greasy and very tasty.
Staff are friendly and promise they will rustle up our curries super quick so we can get back out to the comedy festival and they have us in and out in a hour – fab!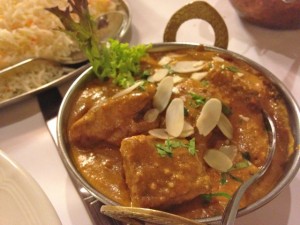 My Lamb Shahi Korma, creamy korma and cashew sauce with succulent, slow cooked lamb is delicious. A very nice fluffy garlic naan and I am in a very happy place. Great curry.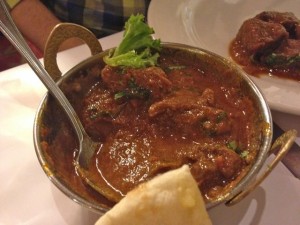 Hubbys Rogan Josh was a winner, lamb cooked in spices, onion and tomato gravy – Kashmiri style.
Great spot, super quick, tasty and cheap.