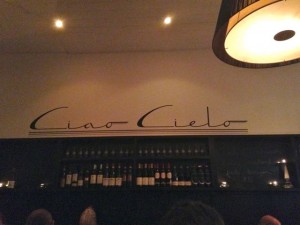 Such a lovely intimate place, barely seats twenty, staff know their stuff and a menu to make your mouth water. Classic Italian style dishes with bolognese, gnocchi, arancini and lots of lovely lamb shoulder, pork belly and a damn good steak.
Great wine list with reasonable choices by the glass. Staff look after you well and apart from the nasty smokers next to us who couldn't go five minutes without heading out and leaving the door open until returning and stinking the place up – it was a wonderful meal.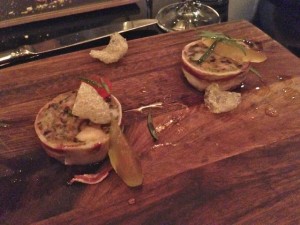 Just missed out on the scallops so I went with the special – Pork and Mushroom terrine with mustard fruits and crackling. Glad I missed the scallops! This was divine. Gorgeous, quality ingredients and beautifully prepared and that cheeky crackling yum!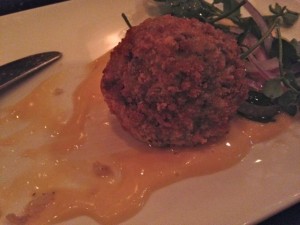 Apologies, pics are a bit dark – you know I am not a flasher! The Confit duck arancini with buffalo mozzarella, spiced orange aioli and watercress was sensational, huge pieces of succulent duck with that wonderful aioli, amazing!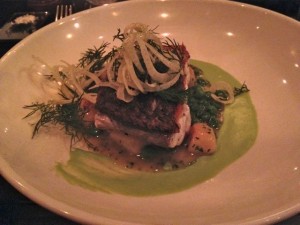 I cannot say enough great things about my main, fish of the day, the cone Bay Barramundi fillet with pea veloute, pan fried gnocchi, shaved fennel and dill – bloody gorgeous! Incredibly fresh, crispy skinned fish, crunchy fennel and super fluffy gnocchi. Just wonderful.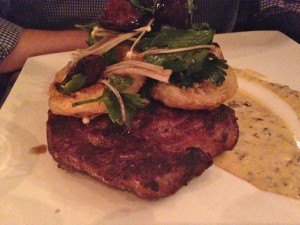 Hubby went for the 350gm grass fed Gippsland Black Angus Rib Eye with mega onion rings, sweet balsamic swiss brown mushrooms and truffled aioli – and all for less than $40! Sadly heading towards a crappy cold so he didn't love the steak but I thought it was big and juicy and well charred. Onion rings were well done – no soggy bits of flour still around and I love mushrooms any day.
All in all a little hidden gem on an ever changing Bay Street.
***********************************************************
Last published 16th September 2012
OMG! How did I not know about this place practically on our doorstep! Well a nice walk at least and we are transported to a super smart Italian Bistro in the heart of Port Melbourne! With gorgeous staff, drool worth menu and amazing food I am so glad we have found Ciao Cielo!
Meaning literally 'Hello Sky' Ciao Cielo has a real homely feel to it, though stylish and smart it is also welcoming and there is a real family feel it, the locals obviously love it as most of the tables were full of people who knew the guys there and were back for another wonderful meal at their great local Italian.
Not so much of the pizza this is European yum! Seafood, quail, fillet and lamb join a very tempting spaghetti bolognese and chilli spanner crab pasta. I immediately jump at the mussels as I had read about them before hand and I wasn't disappointed!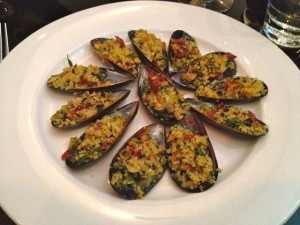 Little gems surrounded with crispy garlic breadcrumbs and herbs YUM!!
And hubby's Calamari was equally delicious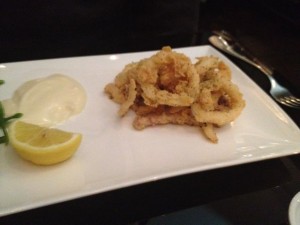 Example of my favourite style of cooking – simple, clean, fresh – let the quality of your produce speak for itself and present it in the best way to allow this!
Mains are all too tempting but the Hopkins River Grain Fed Eye Fillet with rosemary polenta chips…….Yes please!!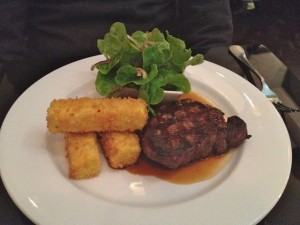 Stunning, amazing flavour, perfectly cooked and with a lovely light fresh salad this was a perfectly balanced dish that hubby was coerced into sharing!!
Fortunately I have the Roasted Lamb Rock with feta stuffed banana peppers, olives and soujouk sausage to barter with!!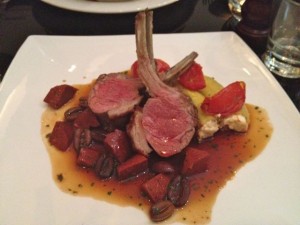 Just gorgeous, blushing lamb with salty sweet banana peppers and the rich sausage…. so good!!
You would think we would be full but we thought we have better check out the desserts just incase! Affogato is really a posh coffee so that isn't a dessert right?!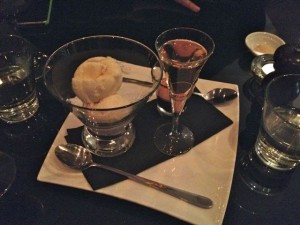 Served with Norcello – a walnut liquor this was so lovely!!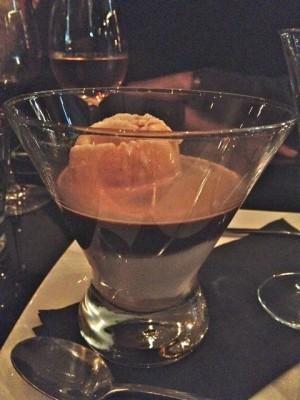 BUT then!!!
Drum roll….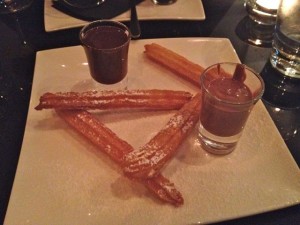 Churros with milk and dark chocolate dipping shots……. oh yes!! Super crispy but sweet and soft inside, it was hard letting them cool as we wanted to dive in! The chocolate was perfect and we were happy little bunnies as we rolled home!!
Thanks everyone at Ciao Cielo – you made us very, very happy!!