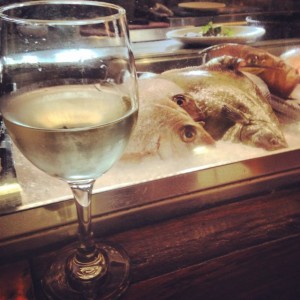 A very popular spot on a weekend as everyone visit the market for the weekly shop and grabs a bite to eat. Claypots is a family go too and we often spend an hour on a Saturday afternoon enjoying a cold riesling and some very good fish!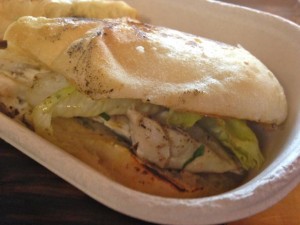 Service is always a bit hit and miss, but the food always arrives eventually and the relaxed, laid back approach is a good match for an easy afternoon. Hubby goes the fish sandwich, the fish looks nice though hubs was a bit disappointed and thought it was a bit bland – maybe thats why they offer it with chilli?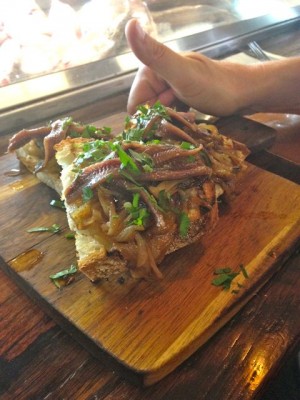 Brothers anchovy and caramalised onions are sensational, food envy ahoy!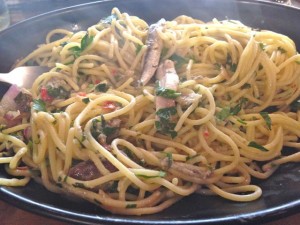 My spaghetti with anchovies was perhaps a bit of an exaggeration with the use of plural anchovies.. there weren't many! It was a generous serve but didn't work for me and I love white anchovies!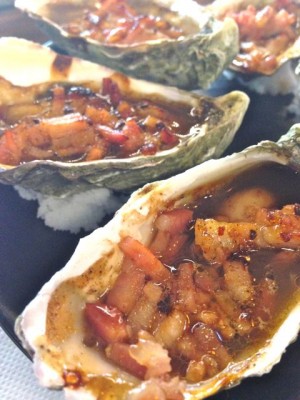 Brothers cheeky side of mussels with bacon and spice looked great and well made.
It's a fun spot, plenty of lovely fresh fish to choose from, grab a stool and watch the world go by.
********************************************************
Last Published 23rd August 2011
The sun is shining on a gorgeous Saturday afternoon and South Melbourne market is buzzing with happy shoppers picking up the weeks veggies and grabbing a bite to eat at the many great cafes and restaurants offering fresh paella and pides and the newest addition Claypots Evening Star. We pull up a snake skin stool at the 'bar' and get a first row seat in front of the fish display with amazing whole fish next to plump scallops.
The menu is simple, self explanatory and up on the board until its all gone!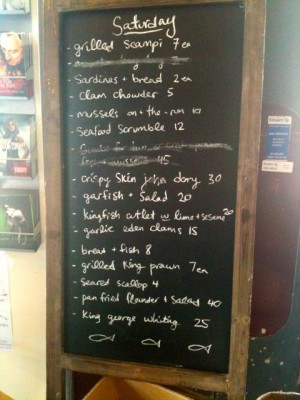 The wine list is good, varied and reasonable, we choose a Gilgamesh Riesling from the Clare Valley and we start to go through the menu and what we all want to share.
The sardines and bread are beautifully cooked with grilled bread and a hot chilli chutney, sardine sandwiches all round!! I'm not game enough to the eat the head but the rest is fantastic.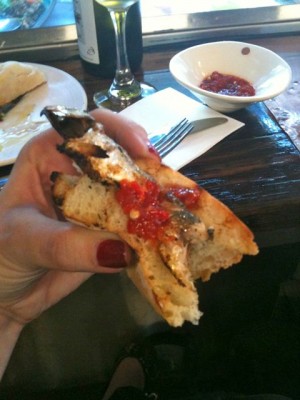 Fellow diners are enjoying 'Fish and Bread' a great looking grilled fish and salad in Turkish bread, creamy chowder, baked mushrooms and grilled fish. The scampi are a little pricey at $7 each but when they arrive they look brilliant and they taste even better, grilled and buttery I could eat a whole lot of them!!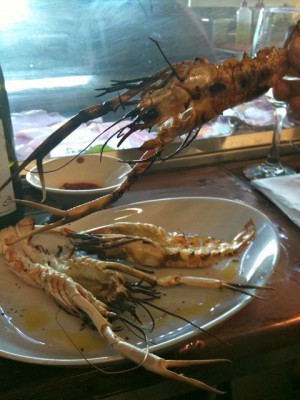 Next up at 'Mussels in the Run' a bowl of mussels and clams in a creamy stock with plenty of chunky garlic, onion, herbs and chilli. We could have done with a bit more bread, or infact a bowl each it was soooooo yummy!
Everything is very relaxed, another bottle arrives and the sun shines on, as if you needed another reason to go to South Melbourne Market, this place is a perfect lunch stop off.