Happy go lucky Cafe on Warren, playfully abbreviated to COW is a great little spot for the locals. Grab a coffee or a giant fresh orange juice and peruse the menu and specials board. There is a full breakie menu as well as a great mix of pizza, pasta and usual suspects like a good old steak sandwich.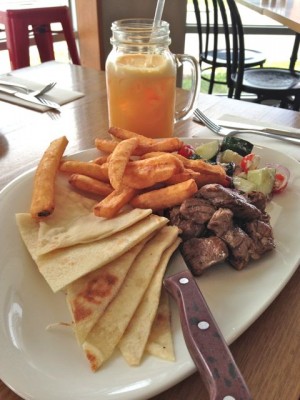 Hubbies Souvlaki platter is a generous and interesting shaped plate! Great chips, lovely pita but hubby didn't love the meat and thought it was a bit tough.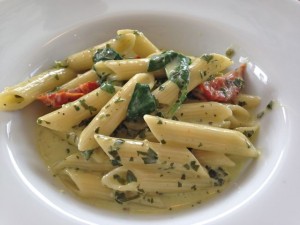 Sensational pasta with creamy pesto sauce, fresh basil and sun dried tomato. Brother and I both had the same to avoid food envy and stole the lovely pita bread from hubby to mop up!!
Service was a bit haphazard though we weren't in a hurry, the locals seemed happy and I am sure we will be back again.