Never under estimate the joy of a really good BYO Thai that you can walk too! We forget how lucky we are some days and it's been far too long since we went to Pacific Rim. It's just as you expect, a menu packed full of curries, stir fries and so many yummy entrees that you just want them all!!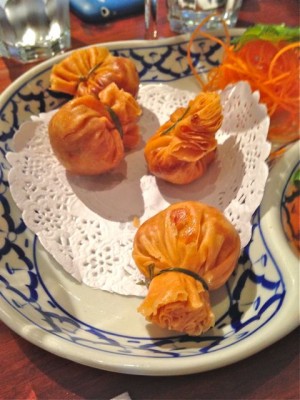 Golden bags, so lovely you can barely wait for them to cool before you dive in! Crispy golden pastry stuffed with chicken, sweet corn and spices. Perfect!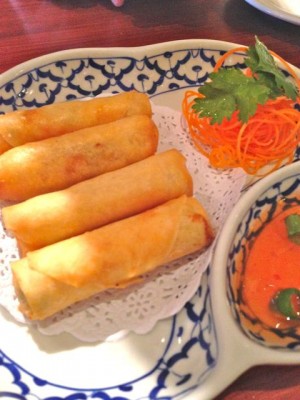 Spring rolls with vegetables rolled in light pastry and a great dipping sauce – could eat a bucket full of these…. but I won't!!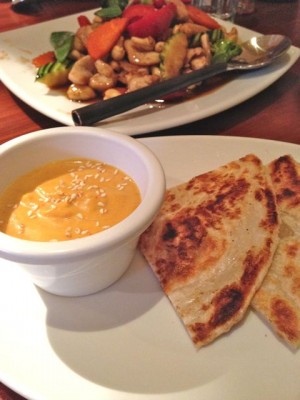 One of the best satay sauces in Melbourne! Love it, plenty of fresh roti and we are all happy! The Gratiem Pik – Stir fried beef with garlic & pepper, broccoli & bokchoy converts even the biggest veggie avoider!! Great flavours!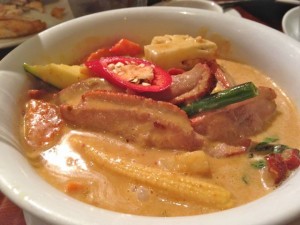 Red duck curry – hard to share this one, it is so amazing. Seriously want this now!!
It's a cheap night out, throw in a few bottles of BYO wine and the staff are lovely and will look after you but leave you too enjoy… even when they want to go home!!
Fabo – see you soon for that duck curry!
*******************************************************************
4th February 2012
Another great spot in Albert Park, Pacific Rim has been around for a long time serving fantastic Thai food to the lucky locals.
The menu is great, an easy going selection of spring rolls, money bags, stir fries and curries.
The Chicken Satay – Skewers of marinated lean chicken, served with peanut sauce are always good, tender chicken and super creamy satay sauce, it might not look to pretty but it tastes divine!!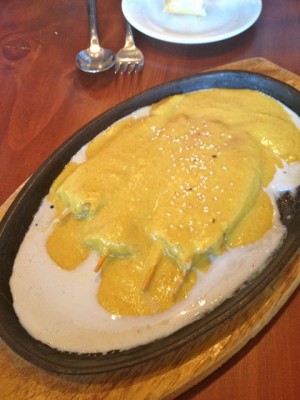 The Por Pia – Spring Rolls, Vegetables rolled in light pastry, served with sweet chili sauce are fantastic, I don't have to be asked twice when there is one left for grabs!! Super crunchy without any greasiness. Light filling and a great sweet chilli sauce – happy times!!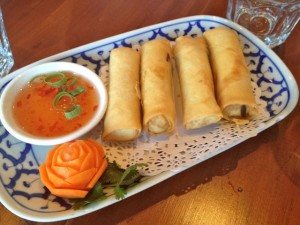 The Lard Na Sticky Noodle is a plate packed with gorgeous mixed vegetables with sticky sauce stir fried pork and rice noodles. It is gorgeous! Perfectly cooked pork with crunchy veggies and amazing noodles YUM!!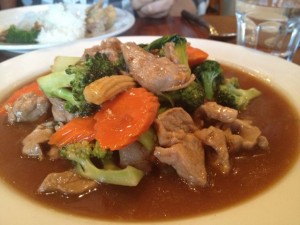 The Masamun Curry is great, super creamy with succulent slices of beef, potato & sweet potato in mild sweet curry sauce. Divine! Plenty of roti chanai to dip into the sauce and steamed rice to gather up the rest.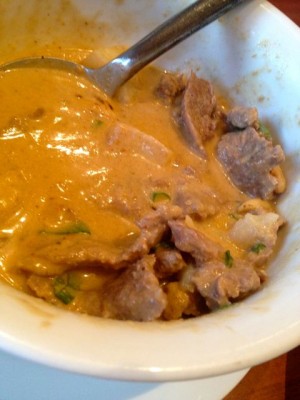 The Red Curry duck and veggies was perfect! Just the right heat and plenty of great duck and just an all round winner of a dish!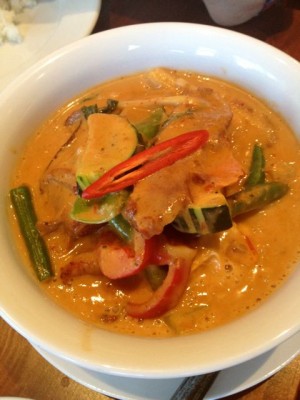 The Beef and broccoli stir fry was again just really good! Great beef, stir fried perfectly and with fresh, barely blanched broccoli… divine!!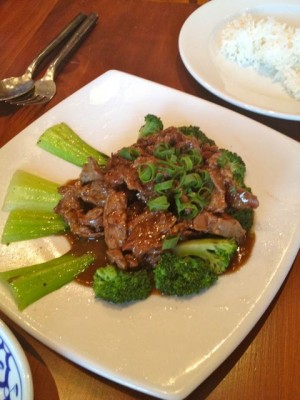 All in all this place is a great spot to visit, there was plenty of take away trade and the tables turned over a few times as we worked our way through the menu and a fair bit of BYO wine!
Delightful and how cute if the bill??!!