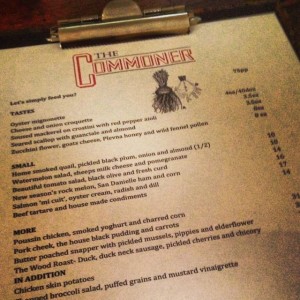 A sunny Sunday afternoon and we have nothing but time and a big appetite, we rock up and there is no booking for us but not a problem, in fact bonus, we are set up in the 'rabbit trap' room. An intimate little space for 6 / 8 with your own air conditioning and private dining room. The service couldn't have been nicer, the 'let us feed you' menu is a great option, the wine list is plentiful and we are allowed to relax and enjoy a very awesome lunch!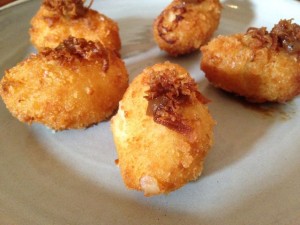 The menu is a great mix of bites, small dishes and larger, all good to share and enjoy. We start with the cheese and onion croquette each – perfectly crunchy with super fluffy and tasty insides, I could eat a whole lot of these if there weren't so many other great dishes to try.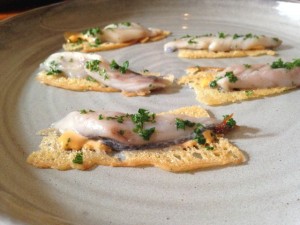 The incredibly delicate soused mackerel on crostini with red pepper aioli – the smallest mouthful of sensational flavours, that red pepper aioli is fab!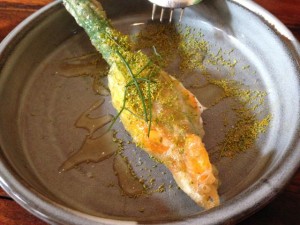 The zucchini flower with goats cheese, local honey and wild fennel pollen is a tricky one to share and you probably shouldn't as it is out of this world delicious!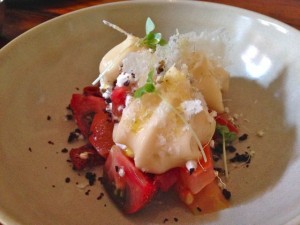 Beautiful tomato salad with fresh curd and olives includes 'smoked tomato clouds' they are fantastic with delicate smoked tomato flavour and a great match with super fresh tomatoes underneath.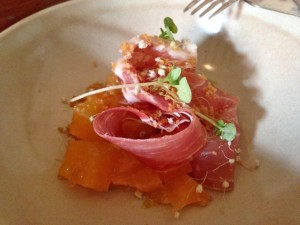 Rock melon salad with San Danielle ham and corn – just gorgeous and a great dish for the sunshine outside.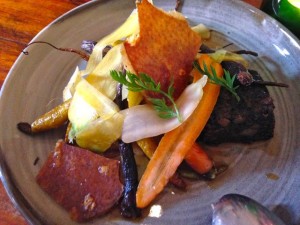 Pork cheek, house black pudding and carrots – WOW!! A sensational dish with succulent pork, rich black pudding and a very crispy shard of crackling.
Duck with pickled cherries and chicory is one of my favourite dishes of all time, loved the sourness from the chicory and the tart and sweetness of the cherries with rich, meaty duck. Yum!!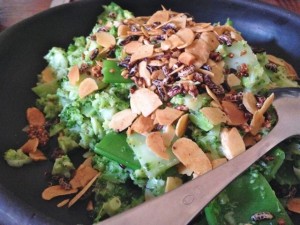 We go ying and yang on the sides with a super healthy chopped broccoli salad with puffed rice and mustard vinegarette meets chicken skin potatoes – they cancel each other out right?!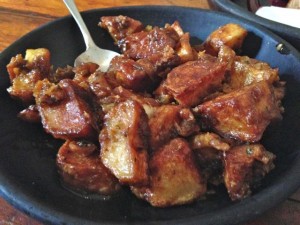 No room for dessert which is a shame because the Little Elvis – profiteroles with banana custard and dulce de lecce or brown ale pudding with salted caramel sauce do sound bloody fantastic!!
Can't fault this place, amazing food, great service and a really nice place to be!