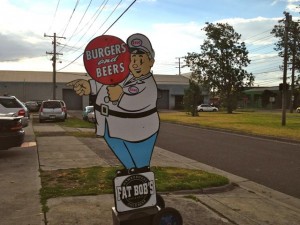 Down the Nepean Highway usually for a shopping blast at Southland or a winery tour to Mornington but who knew just off at Moorabbin is one of the most amazing burger spots! Fat Bob's Bar & Grill a little American style diner with booths, beers and great burgers!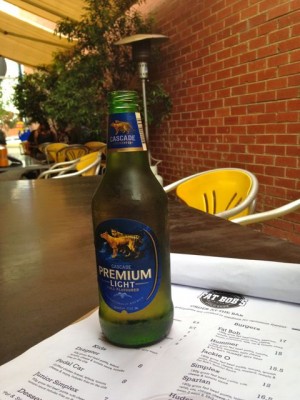 Grab a table, a cold beer and choose your weapon! The menu is a burger fanatics dream come true, even the vegetarian can have beef added!! There are also a few sides to keep you going too.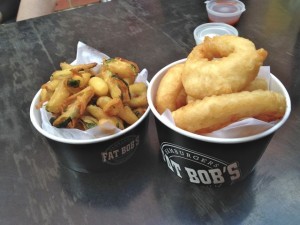 Zucchini fries and onion rings – sooooo good!! Perfect onion rings with crispy batter and soft onion, not as easy to get right as you think! Zucchini fries are a little naughty but we are getting a serve of veggies right?!
Now burgers! The boys go 'The Spartan' – 180g grass fed beef pattie, tomato relish, cos, vintage cheese, bacon, onion 2 ways and BBQ sauce.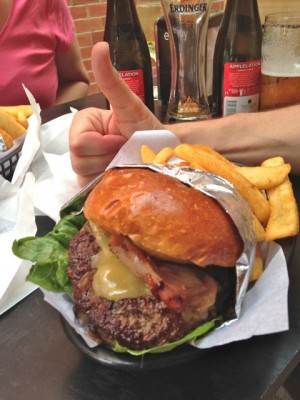 The onion two ways is a winner! Many comments into the night on how good the onion ring and fried onion were with the succulent burger and ample sauces. These are two handers! Big burgers in a great bun, super juicy that does drip out the bottom but the flavour is sooo good!
I went for 'The Hummer' with tomato, jalapeno, cucumber, tasty cheese and Fat Bob's spicy "HUMMER" mayo – so good! This is a big burger, I struggled to finish, never mind enjoying the fantastic fries! There were a few dips into the Hummer mayo coming out the side – I recommend you get a pot for the table, it is good!!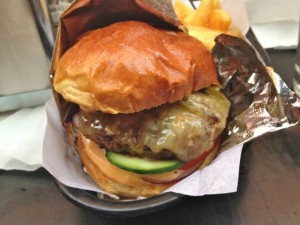 Fricking Awesome Dude!! Serious contender for best burger in Melbourne! We were all ready to go home and rub our tummies afterwards as were were packed full of amazing burger! Happy days in Moorabin!!
If you have room you can pop across the road to the 2Brothers Brewery – a top joint to enjoy a spot of locally crafted beer and live entertainment!