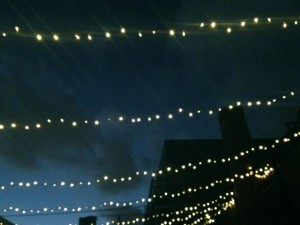 (Warning – it's a lovely dark evening with fairy lights – the photos are not great!!)

A big old pub off the tracks of super foodie destination Smith Street, the Glasshouse is looking fabulous. Word is out and there isn't a free seat in the house at Le Bon Ton. From the boys that brought Melbourne Chingon this is Texas BBQ meets Oyster Bar meets Banana Cream pie. It's a huge space with more rooms appearing as you walk through to the fairy lit garden out the back. Home to the smokers (the nice food ones, not the dirty nicotine stinky ones!) its a great spot to relax and let you mind wander back to bonfire nights and sparklers or BBQ visits to Austin.
The menu is challenging ….. how can you make me choose!! It all sounds so good brisket, pulled pork, calamari, chilli fries, mash, cornbread, wings, fried green tomatoes and homemade pies.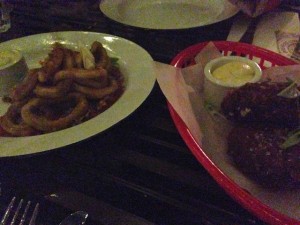 There have been a few issues with the licensing so there isn't a full wine list but there are plenty of good beers on tap and the house white (thankfully not a Marlborough Sauv!) is a good drop and less than $10 a pop you notice it on the bill at trend when you aren't drinking $15 chardies!
The staff are brilliant, I am impressed how well they are managing the tables and with so many spots to fill they are on the ball and working those tables! Super friendly, we had a few missing dishes that never quite made it, probably didn't need those dozen wings in the end but they handled it perfectly.
We started with spicy fried calamari with roasted poblano chili salsa and pickled jalapeño tartar sauce – Amazing!! Tender, tasty, terrific!!!! The Gulf Style Crab cakes with streaky bacon, bell pepper and old bay aioli are crispy pillows packed with gorgeous succulent crab and a bit of spice. These are a perfect bite with a cold beer in a fairy lit garden! Love!!
Texas chili cheese fries loaded with Texas beef and pinto bean chilli, cheese and yummy fries……… So damn good we had to order another round.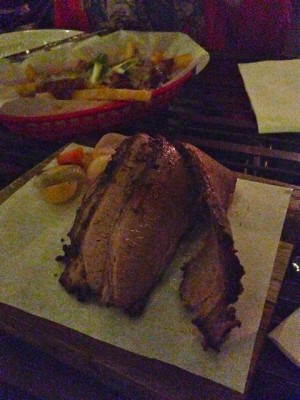 Pit smoked 14 hour mesquite smoked Riverina grain fed Angus beef brisket …… Meat treated with the respect – can't beat it! This would have been perfect with the creamy mashed taters with chives and bacon but alas we just missed out on the last order.
The smoked pulled pork brioche with onion, cheddar, special sauce and pickles puts shame to some of the recent attempts I have tried. This was perfection, soft, succulent, so much flavour and a beautiful little brioche.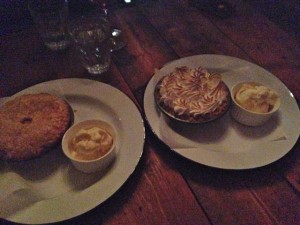 So we missed out on wings and macaroni salad – to console the boys we get in some homemade pies – Apple pie and banana cream pie – shut the door!!! Cute little pies to share, little ice cream, four spoons and it's off to a happy happy place!
Such a great spot, can't go wrong… Unless you only order one serve of chili fries!!