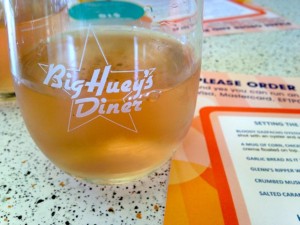 It's not often I can't find lots of nice things to say about a place but I really struggled with Huey's. I can't say it was a great meal but as always you should try for yourself and there are plenty of other people singing Huey's praises so it might have just been an off night.
Set up as a diner opposite South Melbourne market, it was oddly quiet on a gorgeous sunny Saturday evening. We took a spot at the big share table down the middle with a great view of the bar and open kitchen. There seemed to be a lot of staff without much to do but we still had to ask for waters and wait for our wine order to be taken.
The menu is a series of diner classics with burgers, Reuben's, hot dogs, po boys and a chip butty thrown in for fun.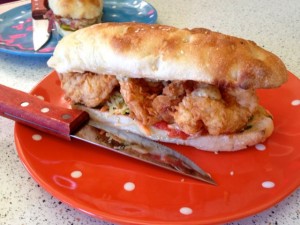 A chronic over orderer, I wanted everything but tried to show some restraint! Living locally we could come back as often as we wanted. The prawn po boy sounded fantastic with coleslaw and Cajun spice and the picture looks good. It rocked up in a big Turkish roll and was not great. The coleslaw was limp and a bit sad (a bit like Huey on the night as he sat looking miserable at the bar). The prawns didn't seem fresh and were not enjoyable.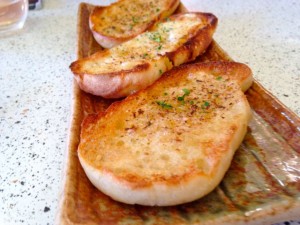 The garlic bread described as 'as it should be' was nice enough, bread, garlic, herbs.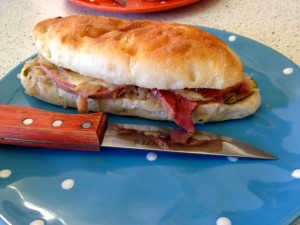 Built up a 'the worlds best Reuben' you have to have a lot of confidence to pull that one and it was not the worlds best, by far. Hubby described as a vinegar sandwich, again on another dense Turkish roll, not enjoyable.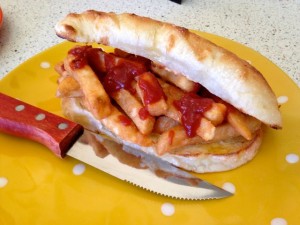 Hubby's chip butty was another Turkish roll with some chips and ketchup – overdosing on Turkish bread we had a few of the chips it was again ok.
We left as quick as we could, it wasn't a great time. As always this was just one night and our experience, tomorrow is another day. We did meet up with some new friends in a local bar afterwards and their experience wasn't any better. Oh well.