There is something fabulous about a big bowl of fresh, stir fried veggies with my friend Gnomes 3 Spoon Sauce.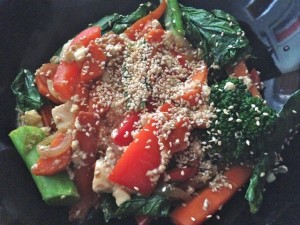 Ingredients;
1 Carrot – sliced
1 Red capsicum – sliced
1 Bunch of Broccolini – sliced into chunks
1 Onion – sliced
1 pack of Silken Tofu – sliced
1 Bunch of Bok Choy – leaves torn and base sliced
1 tablespoon of Sweet Chilli
1 tablespoon of Soy Sauce
1 Tablespoon of Oyster Sauce
Sesame seeds – toasted
Stir fry your veggies in a little peanut and sesame oil – cook in order of how hard your veggies are i.e. cook in order of time they take, longest first. Carrots, Capsicum, Onion, Broccolini, Bok Choy. Then fold through the tofu and sauces until warmed through.
Serve with a generous sprinkle of the toasted sesame seeds and indulge in a yummy dinner with no meat!